Eiger Speed: The New Mammut Speed Mountaineering Collection for Summer 2023
In mountain landscapes, among paths already trodden, springs the desire for new goals and challenges. For ambitious amateurs and professional alpinists alike, this often boils down to speed—covering greater distances in less time—and Mammut's new spring-summer 2023 collection is made to answer this call.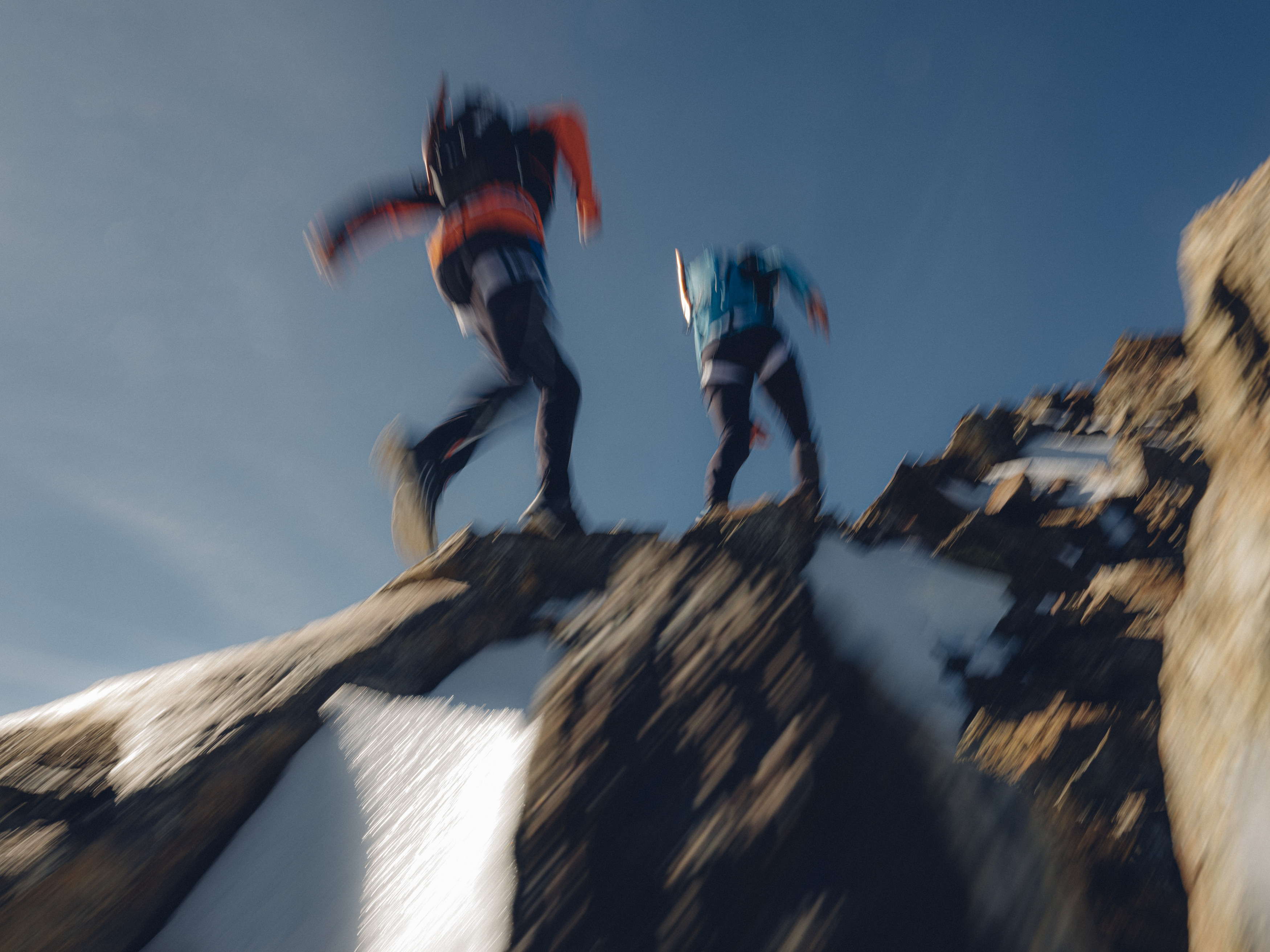 Building from the DNA of Eiger Extreme, the outdoor specialist has zeroed in on the essentials of its iconic mountaineering collection to create a new fast and lightweight line: Eiger Speed. Designed to help athletes achieve their high-alpine goals faster than ever, this ultra-lightweight collection combines a clever modular apparel system with a specialized climbing harness and crampon-compatible, run-ready mountain boots. The perfectly coordinated pieces meet the needs of demanding alpine tours and enable quick transitions to seamlessly counter temperature fluctuations at changing altitudes. Functionality, minimalism, and safety are the bottom line. ​
​This accelerated approach to alpinism gives rise to two distinct sets of outfitting requirements: lightweight and highly breathable gear for running while being durable, flexible, and abrasion-resistant materials for climbing. Eiger Speed is most at home among craggy rock landscapes in the cold and ice.
The Eiger Speed BOA® High GTX mountain boot is the collection's hero. Other highlights include the Eiger Speed ML Hybrid Hooded Jacket, the Eiger Speed SO Hybrid Pants, and the Eiger Speed Harness.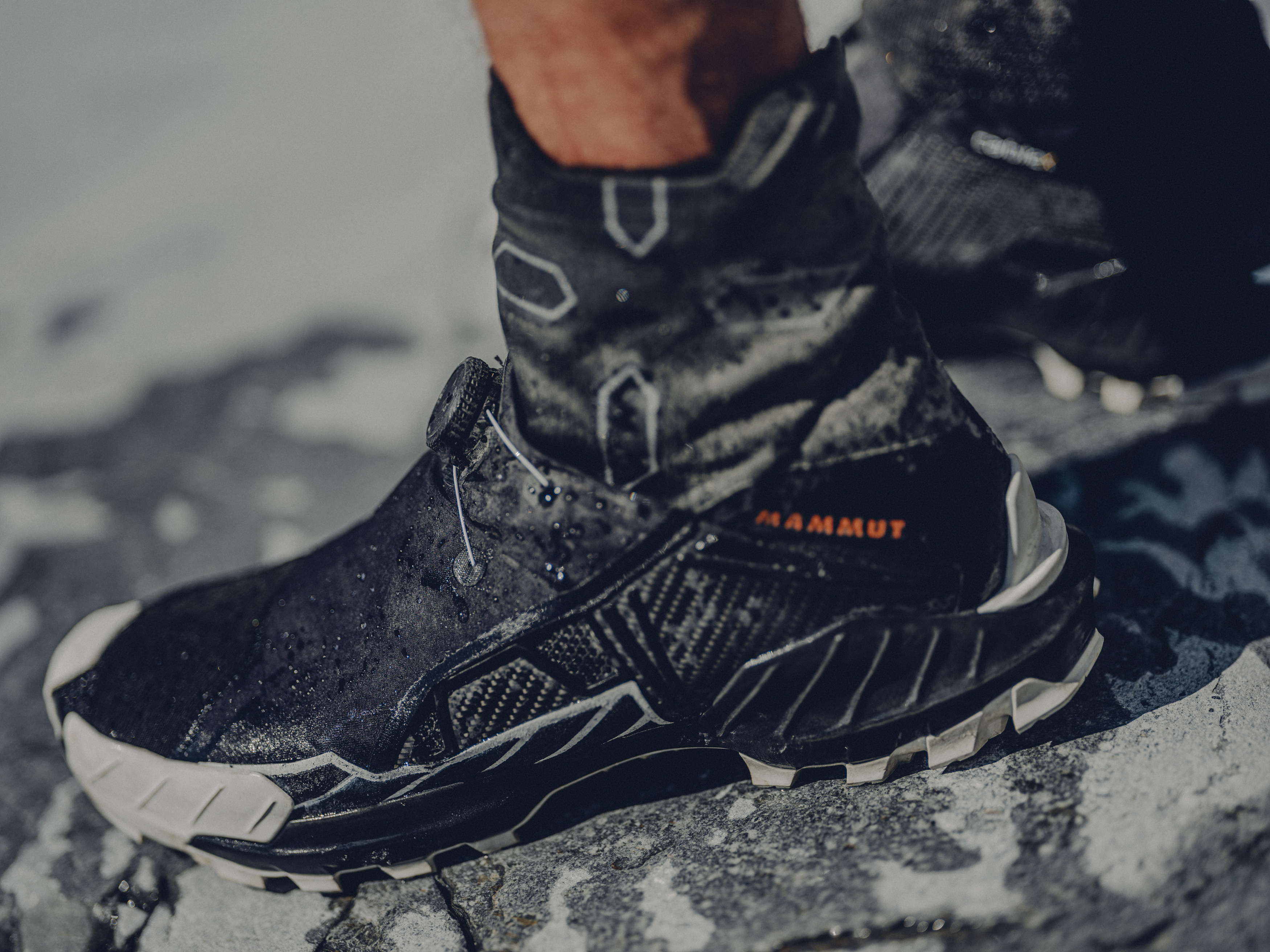 Eiger Speed BOA High GTX Men & Women
Ideal for speedy ascents and technically demanding tours in alpine terrain: this conditionally crampon-compatible mountain boot with integrated gaiter and cushioning midsole focuses on minimal weight and maximum speed. Whether on rock or ice, the Vibram Megagrip outsole with Litebase technology ensures a secure grip. The BOA® Fit System replaces the traditional lacing system, ensuring fast, convenient adjustment, and can be infinitely adjusted even while wearing gloves. Additional safety in rough terrain is provided by the scree protection rim and toe cap. The waterproof mountain boot also features a GORE-TEX membrane and PFC-free water-repellent impregnation, so it's easy to reach the summit with dry feet and in a new best time.
Collection: Eiger Extreme, crampon resistance: conditionally crampon resistant for semi-automatic crampons with rocker arm and basket, flex index: B1, heel drop: 9 mm, lacing system: Boa® Fit System, last index: multifunction, weight (UK 8.5): 480 g, Fair Wear
SRP: 420.00 EUR | 350.00 GBP | 4499.00 SEK | 4499.00 NOK
​Men: Size EU 40–47 ⅓ | UK 6.5–12 | black-arumita
​Women: Size EU 37 ⅓–42 ⅔ | UK 5.5–8.5 | black-sky
Eiger Speed ML Hybrid Hooded Jacket Men & Women
This midlayer is suitable for fast climbs and mountain runs due to its enormous freedom of movement. The body mapped fabrics regulate moisture and keep your body warm in the right places. The integrated HeiQ technology reduces unpleasant odors to a minimum. Flatlock seams, extra elastic material, and the close-fitting, helmet-compatible hood ensure the perfect fit. When catching your breath at the summit, the windproof stormfleece with 4-way stretch prevents your body temperature from dropping rapidly. In the two easily accessible front pockets made of powermesh, energy bars are immediately to hand. Additional storage space is provided by a concealed zippered pocket at the front. The jacket also scores sustainability points with its PFC-free, permanently water-repellent impregnation (DWR) and Fair Wear certified production.
SRP: 200.00 EUR | 170.00 GBP | 2299.00 SEK | 2299.00 NOK
​Men: Size S–XXL | arumita-night
​Women: Size XS–XL | sky-night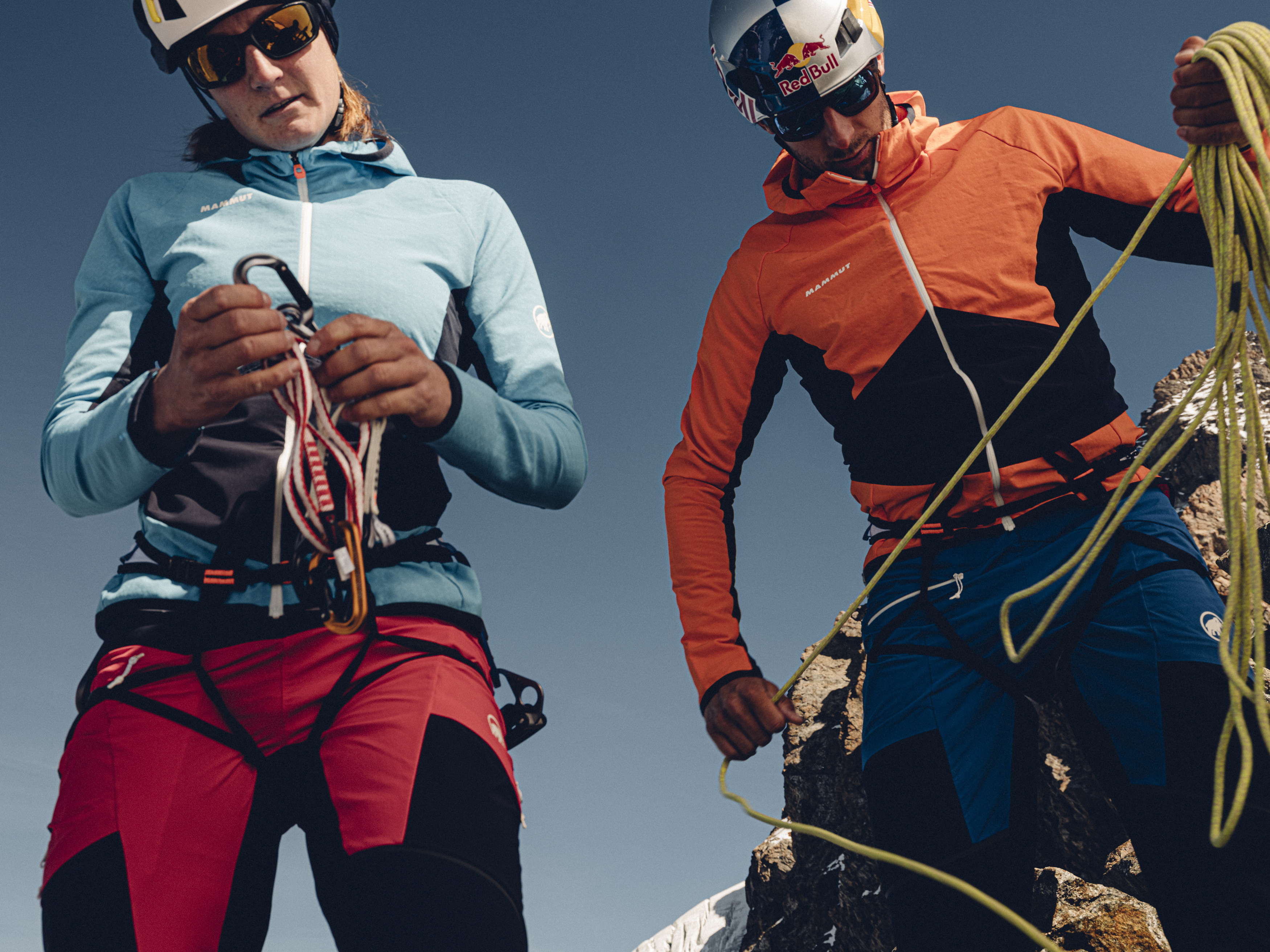 Aenergy FL T-Shirt Men Light Fader & Aenergy FL T-Shirt Women
The Aenergy FL T-shirt, made from 100% recycled polyester, is the lightest first layer for women made by Mammut (76 g/ M). It impresses with its highly technical features: mesh ventilation zones under the arms and on the back make it extremely breathable. The fast-drying material is sweat-wicking and ensures an optimal body climate. The bio-based HeiQ Fresh FFL Finishing technology reduces unpleasant odors. Low-friction offset smooth merrow stitch seams provide additional comfort. A full-length side zipper allows for quick on and off, while reflective detailing provides enhanced visibility in the dark.
SRP: 70.00 EUR | 56.00 GBP | 749.00 SEK | 749.00 NOK
​Men: Size S–XXL | night, black
​Women: Size XS–XL | tangerine, azalea, salmon, marine, night, dark jade-jade, sky, cool blue-deep ice, white
Eiger Speed SO Hybrid Pants Men & Women
At cool altitudes, the hybrid softshell trousers protect against wind during fast mountaineering or trail running and wick moisture away in the right places thanks to body mapping. Maximum freedom of movement is provided by the pre-shaped knee section and the gusset insert in the crotch. Comfort is rounded off by the elasticated waistband with drawcord. The 2-way zippers extend over three-quarters of the leg length, allowing both quick changing and good ventilation. To ensure an effective grip on mountain boots, the hybrid softshell features stowable fastening hooks and an anti-slip print. Reflective elements support visibility in the dark. In production, Mammut places considerable value on social and sustainable aspects: In addition to the Fair Wear seal, which guarantees production under fair working conditions, the pants are made from recycled, PFC-free materials. 
SRP: 220.00 EUR | 185.00 GBP | 2499.00 SEK | 2499.00 NOK
​Men: Size 44–56 | night, night-azurit
​Women: Size 32–46 | night, night-azalea
Eiger Speed Short Tights Men & Women
Ideal for the first meters of fast climbs or mountain runs: The Eiger Speed Tights stand out with their minimal weight, robustness, and speed. Extra comfort is guaranteed by the durable material and the elastic waistband with drawstring. The gusset insert in the crotch and the flatlock seams also ensure maximum freedom of movement and friction. At cooler altitudes, hybrid trousers perfectly complement these shorts. Featuring several pockets, these shorts ensure your essentials are always to hand. Quick-drying and breathable recycled nylon yarn add to the garment's sustainability credentials.
SRP: 100.00 EUR | 80.00 GBP | 1099.00 SEK | 1099.00 NOK
​Men: Size S–XXL | night
​Women: Size XS–XL | night
Trion Nordwand 15
With its Trion Nordwand, Mammut has developed a compact backpack in collaboration with top athletes Nico Hojac and Stephan Siegrist. The alpine lightweight (420 g) is ideal for fast adventures. The carrying system, inspired by trail running vests, is also designed to enable freedom of movement while climbing and features an elastic chest strap to ensure optimum wearing comfort. The large mesh pockets on the shoulder straps provide direct access to the storage space on the go, so no time is wasted putting the pack on and taking it off. A roll-top closure and side zipper facilitate quick access to the main compartment, and a zippered pocket with a key clip is integrated into the interior. In addition, the backpack is equipped with two strong ice axe attachments, which can be used to carry trekking poles. The Fair Wear seal and PFC-free impregnation round off the pack's sustainability credentials.
SRP: 160.00 EUR | 135.00 GBP | 1699.00 SEK | 1699.00 NOK
​Unisex: Size 15L | sky-night, black
Eiger Speed Harness
When it comes to speed in mountaineering and ski touring, every gram counts: at 102 g, the Eiger Speed Harness is an absolute must for weight enthusiasts. It was developed in collaboration with speed icon Nico Hojac, achieving a new minimalism level for size and weight. Two tie-in points and fixed, elasticized leg loops, specially designed for climbing with mountain boots, guarantee that the harness can be put on quickly. The two gear loops offer space for 12 ice screw carabiners. Made from durable and fully recycled ripstop material, this harness is the ideal choice for alpine record hunters. Certification: CE EN 12277 type C, UIAA. 
SRP: 70.00 EUR | 65.00 GBP | 999.00 SEK | 999.00 NOK
​Unisex: Size S–L | white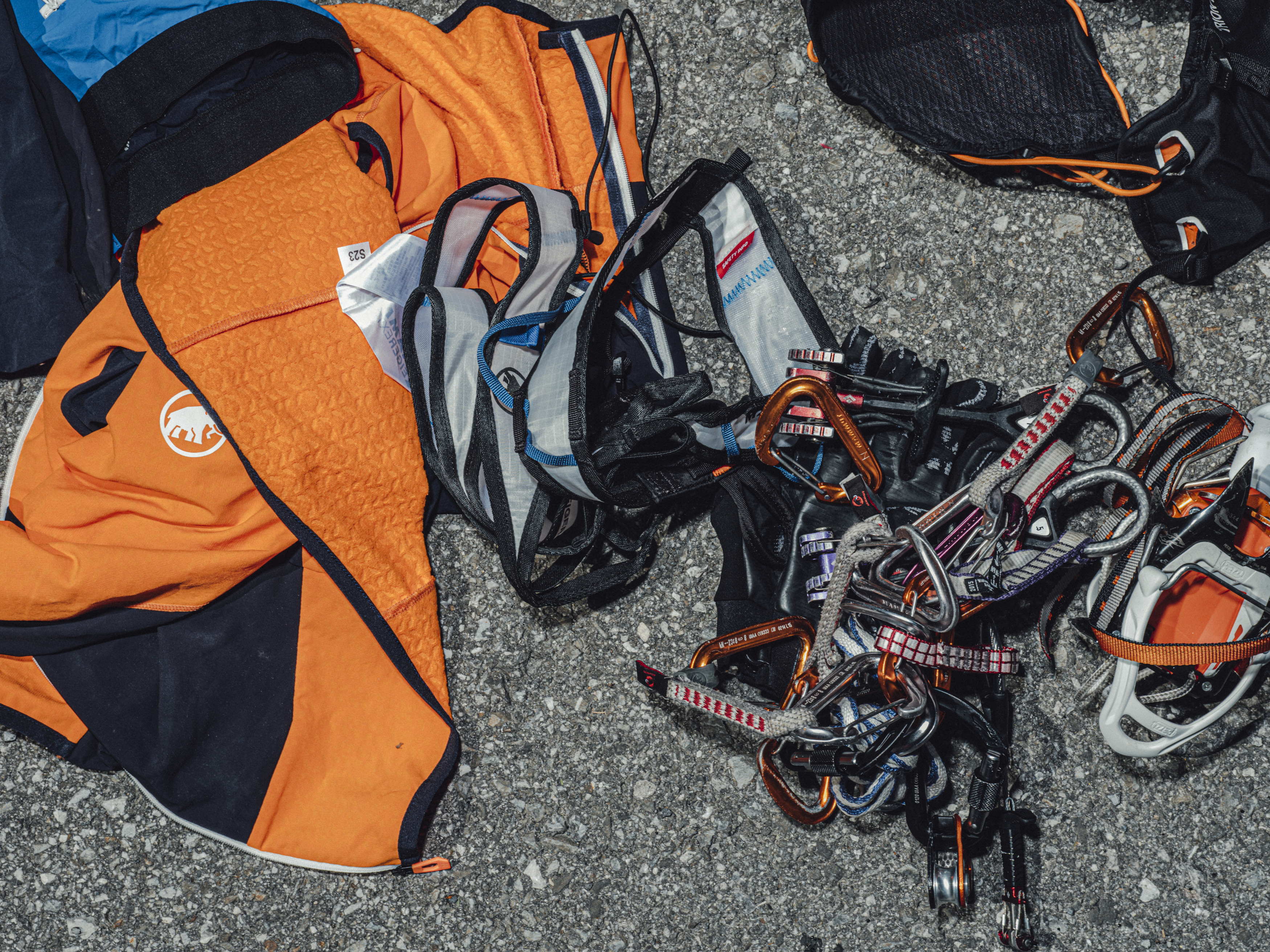 Aenergy TR Headband
This lightweight (14 g) and comfortable headband made from 100% recycled polyester keeps sweat and hair out of your face. Reflective elements ensure the wearer remains visible after sunset. Other features include active moisture management and the odor-inhibiting HeiQ Fresh FFL treatment—a natural-based technology that reduces unpleasant odors. 
SRP: 20.00 EUR | 18.00 GBP | 249.00 SEK | 249.00 NOK
​Unisex: One size | tangerine, salmon, night, highlime, dark jade, deep ice, white
Wall Rider MIPS
Not only an absolute lightweight (250g) but also a quantum leap in terms of safety: this is the first climbing helmet featuring the patented MIPS technology, which additionally dampens the rotating force impact in the event of a lateral impact through a low-friction MIPS layer. The Wall Rider MIPS combines a damping EPP core (Expanded Polypropylene Core) with a partial hard shell. With its strategically lowered sections, the helmet offers maximum protection in the event of tumbling rocks or falls. Its ergonomic fit and tactile padding ensures the helmet feels comfortable to wear on longer tours.
SRP: 170.00 EUR | 140.00 GBP | 1899.00 SEK ​ | 1899.00 NOK
​Unisex: Size 52–57 cm, 56–61 cm | white
6.0 Glacier Cord Dry
Ultra-light and highly compressible: the rope, specially developed for glacier and ski touring, impresses with maximum safety under the most adverse conditions. The low rope stretch (less than 2%) makes it ideal for abseiling maneuvers and crevasse rescues. The Dry treatment minimizes moisture absorption and thus prevents the rope from freezing in low temperatures. The Glacier Cord scores particularly well for robustness: despite its small diameter (6mm), it boasts extra abrasion resistance.
SRP from: 230.00 EUR | 200.00 GBP | 2899.00 SEK | 2899.00 NOK
​Length: 30 m, 60 m | yellow melange
Classic HMS Screw Gate
Easy to use and versatile—this carabiner (63 g) is suitable for belaying on multi-pitch routes and as an HMS. The screw locking is impressive even in icy and dirty environments, and its orange marking acts as a warning if the carabiner is not screwed closed. The keylock nose is particularly user-friendly, preventing annoying snagging at airy heights when clipping and unclipping. Mammut paid special attention to improving the rope passage and reducing wear when developing this carabiner.
SRP: 16.00 EUR | 15.00 GBP | 229.00 SEK | 229.00 NOK
​Unisex: One size | blue, pink
Sender Screw Gate
Where every gram counts, the Sender carabiner is the right choice for performance-oriented climbing. Weighing in at only 48 g, the Sender carabiner stands out for its exceptional lightness. In contrast to ball and twistlock carabiners, the screwgate allows it to be operated with one hand and used in dirty and icy conditions. The keylock nose facilitates clipping and unclipping, and the compact D shape also makes for easy handling. Mammut incorporated an orange marking to increase safety that warns you if the carabiner is not screwed closed.
SRP: 15.00 EUR | 13.00 GBP | 189.00 SEK| 189.00 NOK
​Unisex: One size | gold
Speed record over the Swiss Skyline Route
The expertise of alpinist and Mammut Pro Team athlete Nico Hojac played a crucial role in developing the collection. Working together with Nico and other professional alpinists, including Stephan Siegrist, Mammut was able to refine each product down to the finest detail. Every aspect was scrutinized, tested, and optimized, from the feel of the hybrid pants to the shorts right up to the fixings for attaching pants to mountain boots. The result is Eiger Speed, a perfectly coordinated collection for high alpine endurance tours. The ultimate test: the Swiss Skyline route over the Eiger, Mönch, and Jungfrau.
On July 12, 2022, a Mammut production team accompanied Nico Hojac and his friend and training partner Adrian Zurbrügg on their attempt to break the speed record for Switzerland's most famous mountain range. Covering 30.46 kilometers and 4780 vertical meters in an astounding 13 hours and 8 minutes, the alpinists not only succeeded but also smashed the previous record by an impressive 3 hours and 2 minutes.
---
Product-Testing:
Find here a form to request a test sample:
​https://forms.gle/6HgNvnHSnM5jtB6g9
Download product images:
Just click on gallery bellow and press the blue "Download" button in the gallery view.
The new collection will be available from spring exclusively online at Mammut.com and at selected specialist retailers.
---
Action Images – © Mammut:
https://press.dani-o.com/media/album/ca4c63fe-72e4-4ce7-b1bb-2430776a4572
---
About Mammut
Founded in 1862, Mammut is a Swiss outdoor company that provides high-quality products and unique brand experiences for fans of mountain sports around the world. This leading international premium brand has stood for safety and pioneering innovation for 160 years. Mammut products combine functionality and performance with contemporary design. With its combination of hardware, shoes and clothing, Mammut is one of the most complete suppliers in the outdoor market. Mammut Sports Group AG operates in around 40 countries and employs around 800 people.
---
Media contact
Dani O. Kommunikation is in charge of Mammut's PR activities in Switzerland, Germany, Austria, the UK and Scandinavia. If you have any questions or interview requests, please do not hesitate to contact us.