Welcome home: The Mammut hiking collection for spring 2023
Hand-picked materials, innovative cuts designed for freedom of movement and a stronger focus on responsible action culminate in versatile and durable products. In addition to cross-seasonal peak performance, the products bring people closer to authentic outdoor experiences.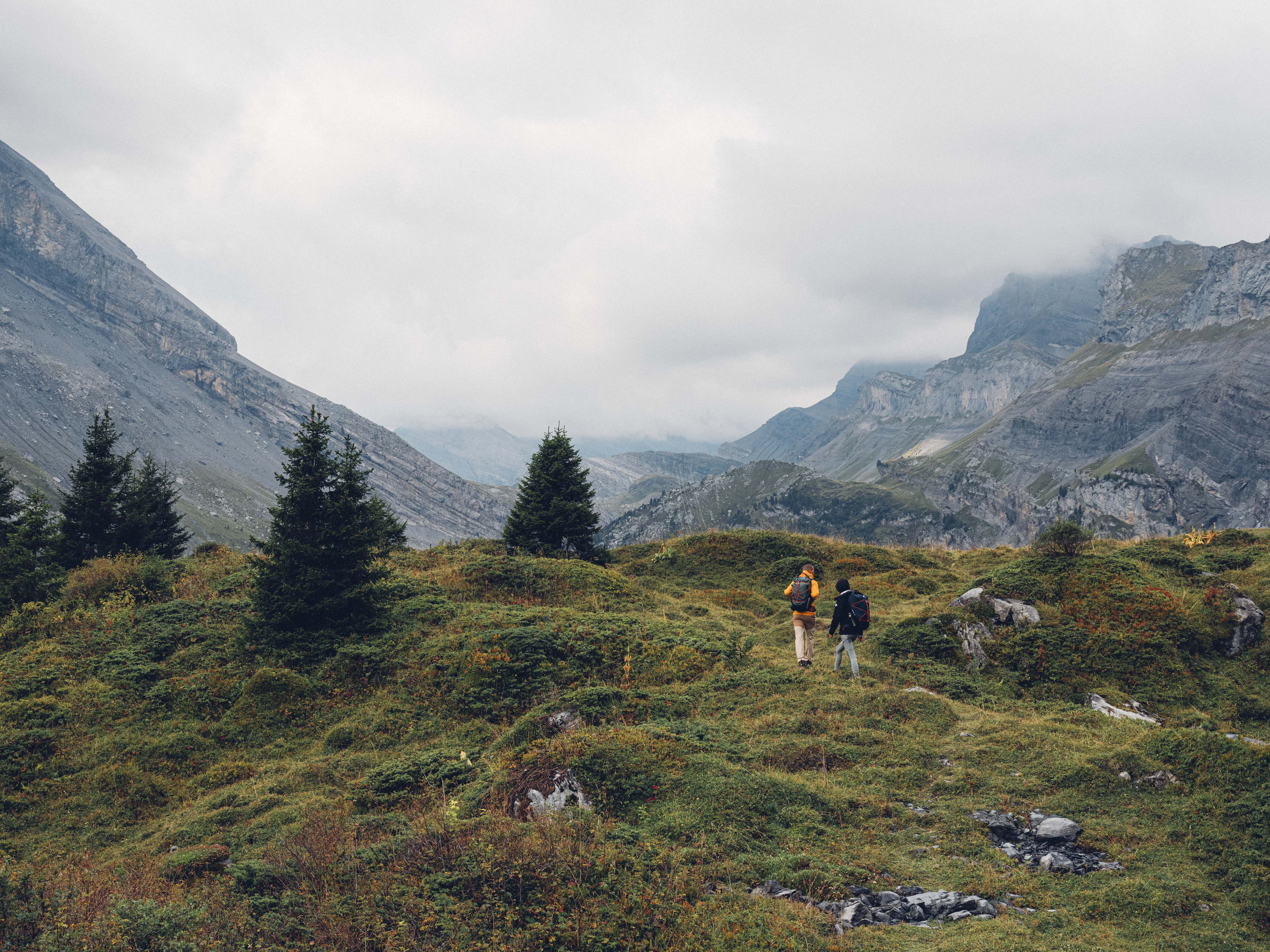 Sapuen High GTX – Women | Men
The Sapuen High GTX is the right choice on any terrain. Mammut Flextron® Technology supports the natural rolling of the foot and thus a more efficient use of energy when hiking and mountaineering. The foam padding made of 3D Memo Foam adapts to the shape of the wearer's foot and provides outstanding comfort, support, and protection against blisters. Mammut Georganic® 3D Technology ensures maximum comfort. All parts in contact with the foot are anatomically shaped for a perfect fit, and the classic tongue design offers easy entry. The Sapuen High GTX is optimized for hiking and offers good grip on outdoor surfaces with its rubber mix of Vibram® Flextron II material used in the soles, while the sole design itself is self-cleaning. The waterproof GORE-TEX lining reliably keeps your feet dry.
Flex index: A6, heel drop: 10 mm, lacing system, standard lacing, last index: hiking, Weight (UK 5.5): 470 g, Fair Wear
SRP: 210,00 Euro | 180,00 GBP | 1.730,00 DKK | 2.499,00 SEK | 2.499,00 NOK
​Women: Size EU 36-42 2/3 / UK 3,5-8,5 | black-dark frosty, black-dark salmon, dark titanium-light grape, dark tin-amber green
​​Men: Size EU 40-48 / UK 6,5-12,5 | wren-amber green, black-dark radiant, dark titanium-dark ice, black-hot red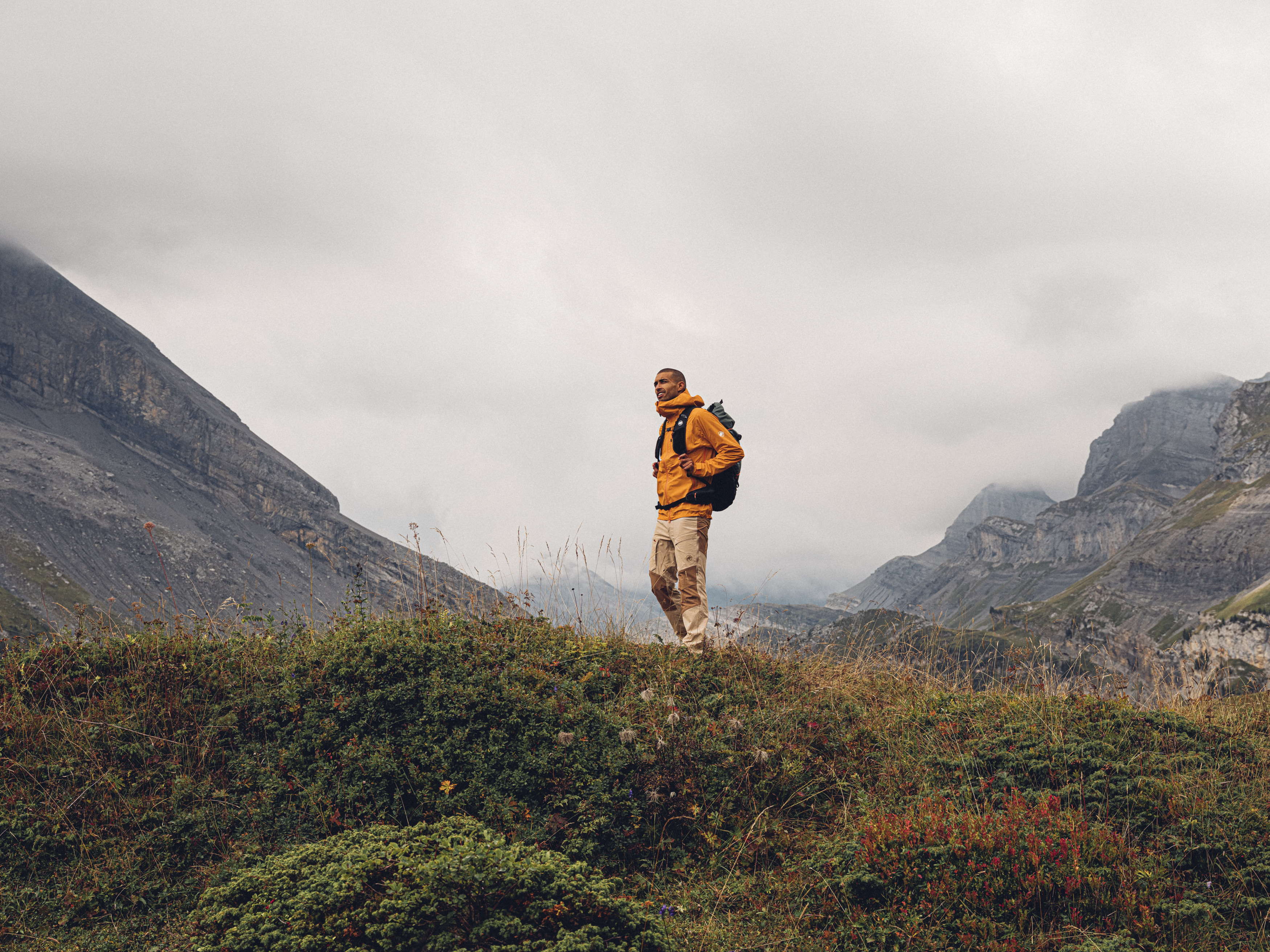 Alto Guide HS Hooded Jacket
All-rounder for any tour—the Alto Guide is the ideal jacket for all mountain adventures. The jacket's many features, which make this robust hardshell particularly versatile, ensure this accolade. The durable, three-layer Mammut DRYtechnology™ Pro material is breathable, windproof, and waterproof. Backpack-compatible front pockets are just as much a part of this jacket's design as are a helmet-compatible hood with reinforced peak and 3-point regulation and the water-repellent as well as robust YKK Vislon® 2-way front zipper for easy access to the climbing harness. In typical Mammut style, the issue of sustainability was made centerstage: The Alto Guide is bluesign® certified, made of recycled materials, and PFC-free—its membrane uses 100% renewable raw materials.
SRP: 325,00 Euro | 270,00 GBP | 2.810,00 DKK | 4.699,00 SEK | 3.499,00 NOK
​Men: Size S - 3XL | black, deep ice-marine, dark jade-woods, cheetah, blood red
​Women: Size XS - XXL | black, gentian-ice, cool blue-deep ice, marine, jade-dark jade, terracotta, hot red-blood red, pink
Aconcagua Light ML Jacket Women
The Light version of Mammut'sclassic fleece jacket is ideal for summer outdoor activities and mid-seasons. Made from made of Polartec® Power Grid™ material, a highly elastic fleece fabric that is lightweight (237 g/M), exceptionally soft, and offers efficient moisture management. Its patented waffle structure has an excellent warmth-to-weight ratio and ensures that the jacket is particularly breathable, dries quickly, and compresses to a packable size. The Aconcagua Light can be worn alone or as a mid-layer for mountaineering, climbing, ski touring, and hiking. Its close-fitting cut makes it easy to wear under a wet weather protective or insulation jacket. Whether in the mountains or during everyday life, the Aconcagua Light is versatile, functional, and stylish. The polyester content of this bluesign® and Fair Wear product is made from recycled polyester.
SRP: 130,00 Euro | 125,00 GBP | 900,00 DKK | 1.599,00 SEK | 1.499,00 NOK
​Women: Size XS - XXL | deep ice, ice, marine, cheetah, tangerine, grape, salmon, pink, white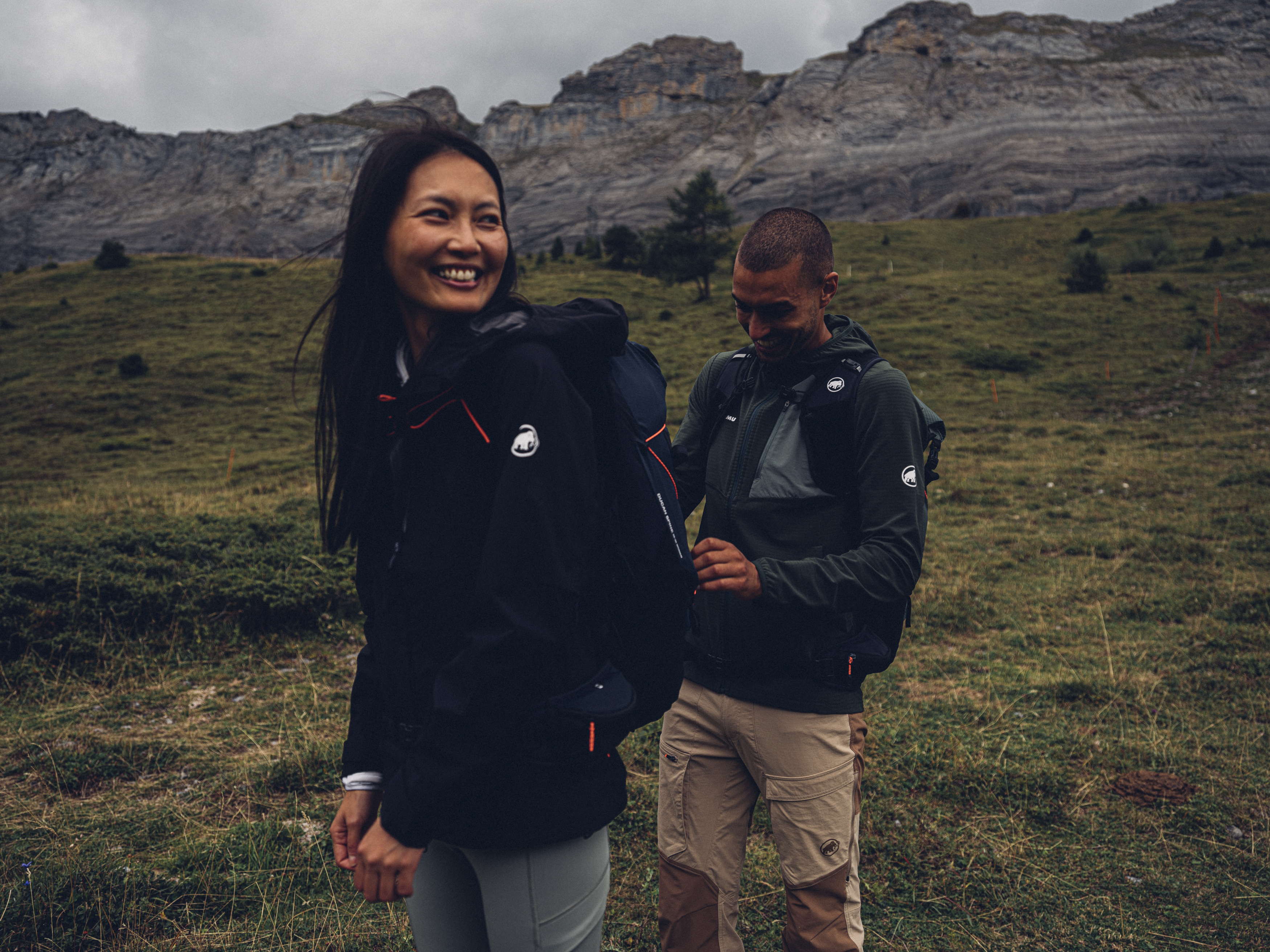 Madris Light ML Hooded Jacket Men
A lightweight midlayer that know no limits to its use—whether climbing, mountaineering, hiking, or snow sports. Its lightweight (353 g/M), elastic, and wind-resistant outer material keeps you dry and warm. Stormfleece® feels pleasant against your skin thanks to its waffle structure on the inside and flat seams. The Madris Light ML enables an extraordinary level of freedom of movement thanks to an elastane content of 12%. This Fair Wear bluesign® jacket is made with recycled polyester and treated with HeiQ Fresh FFL, a bio-based technology that reduces unpleasant odors. Its close-fitting hood can be worn under a helmet.
SRP: 150,00 Euro | 125,00 GBP | 1.699,00 SEK | 1.699,00 NOK
​Men: Size S - XXL | black, deep ice, woods, dark tangerine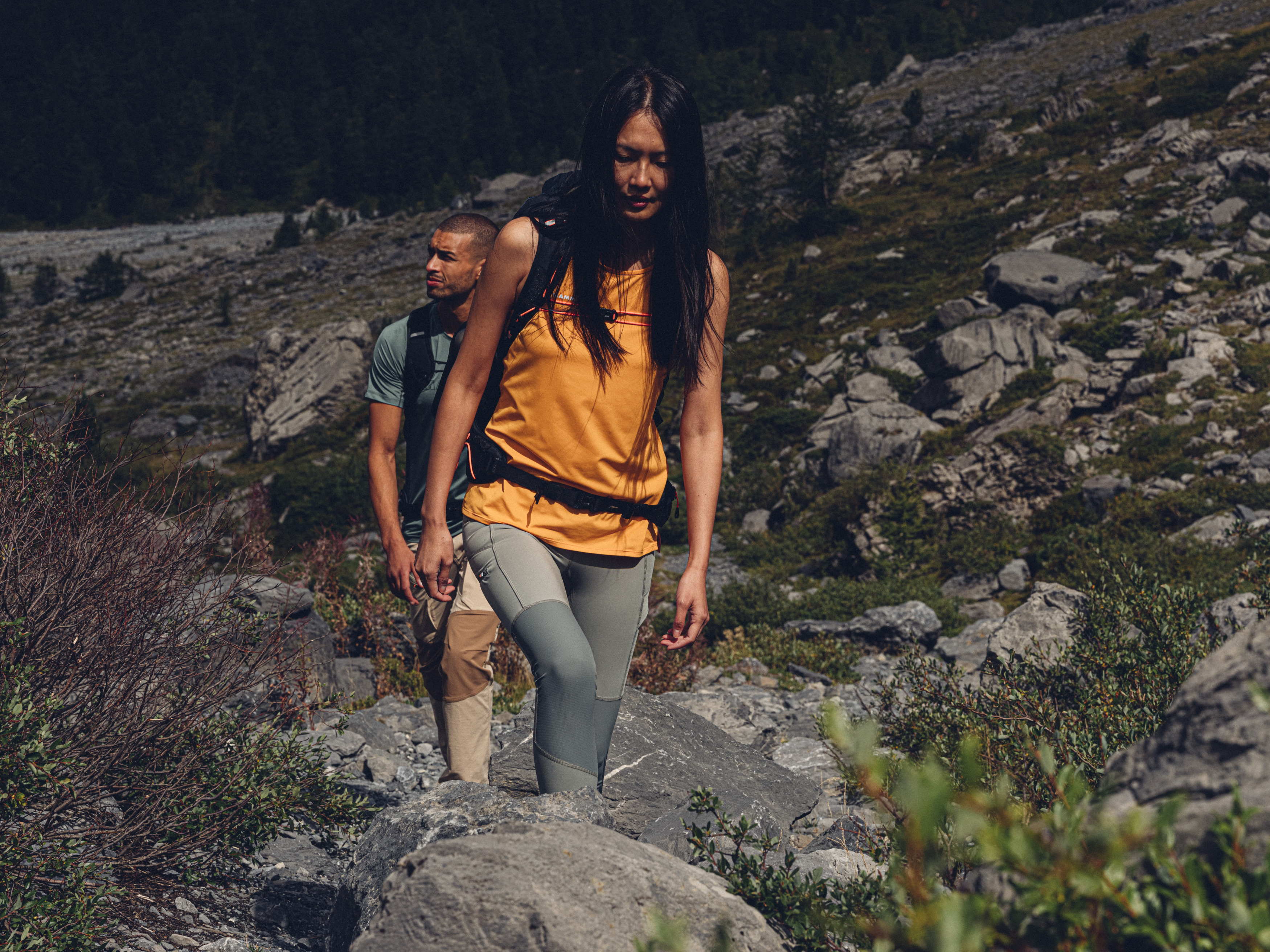 Selun FL Tank Top Women | Selun FL T-Shirt Men Logo
The Selun FL Tank Top and the Selun FL T-Shirt Men Logo dispense of unnecessary frills and impresses as an absolute must-have for any outdoor adventure. Its quick-drying stretch material, combined with offset seams, reduces friction when worn under a backpack and ensures a comfortable feel. Selun Tops & T-Shirts are treated with HeiQ Fresh FFL—a bio-based technology that reduces unpleasant odors. Sustainable Plus: Bluesign-certified knit fabric made from recycled polyester reduces the carbon footprint, as does the more sustainable spinneret dyeing method (e.dye® Solution Dyeing), which uses up to 90% fewer chemicals, up to 85% less water, and produces up to 12% less CO2. In addition, the Selun Tops and Shirts offer UV protection of 50+, providing effective protection against strong sunlight.
SRP: 55,00 Euro | 42,00 GBP | 599,00 SEK | 599,00 NOK
​​Women: Size XS - XL | marine, dark jade, tangerine, salmon ​
​SRP: 60,00 Euro | 48,00 GBP | ,00 DKK | 649,00 SEK | 649,00 NOK
​Men: Size S - 3XL | black, deep ice, dark jade, neo mint, tangerine
Zinal Hybrid Tights Women
Over 160 years of outdoor experience culminate in the unbeatable freedom of movement of the Zinal Hybrid Tights. These comfortable, durable, and weather-resistant Fair Wear leggings are the right choice for any trail. Rugged reinforcement in essential places and thoughtful fabric placement for increased performance make the Zinal Hybrid Tights an indispensable companion on hikes and trips—(almost) all year round. At the same time, the wicking finish ensures active moisture transport. Whether on a family walk by the lake or during a long hike up the mountain—with these bluesign® tights, thanks to two practical leg pockets and impregnated stretch material without any harmful PFC chemicals in the durable water-repellent impregnation (DWR), you'll want for nothing.
SRP: 150,00 Euro | 120,00 GBP | 1.599,00 SEK | 1.599,00 NOK
​Women: Size XS - XL | black, marine, jade-dark jade
Zinal Hybrid Pants Men
The extremely lightweight (350 g / M) hiking pants are quick-drying and breathable yet comfortable to wear due to the stretch fabric with 8% elastane - designed to take on the likes of their namesake. Their hybrid design and thoughtful fabric placement allow for increased performance while using lightweight, durable, and recycled polyamide material. However, besides the extra lightweight and functional design, these pants are robustly reinforced in key areas such as the knees, seams, and seat. All this makes the Zinal Hybrid Pants indispensable for three-season hiking and travel. Other features are the five pockets (2 front pockets, 2 leg pockets, back pocket), a concealed fly with zipper and snaps, belt loops, side ventilation zippers, and the adjustable hem width for a perfect fit. The PFC-free durable water repellent impregnation (DWR) makes them weather resistant and protects against strong sunlight with UPF 50+.
SRP: 180,00 Euro | 150,00 GBP | 1.899,00 SEK | 1.899,00 NOK
​Men: Size 44 - 56 | black, dark jade-woods, savannah-dark sand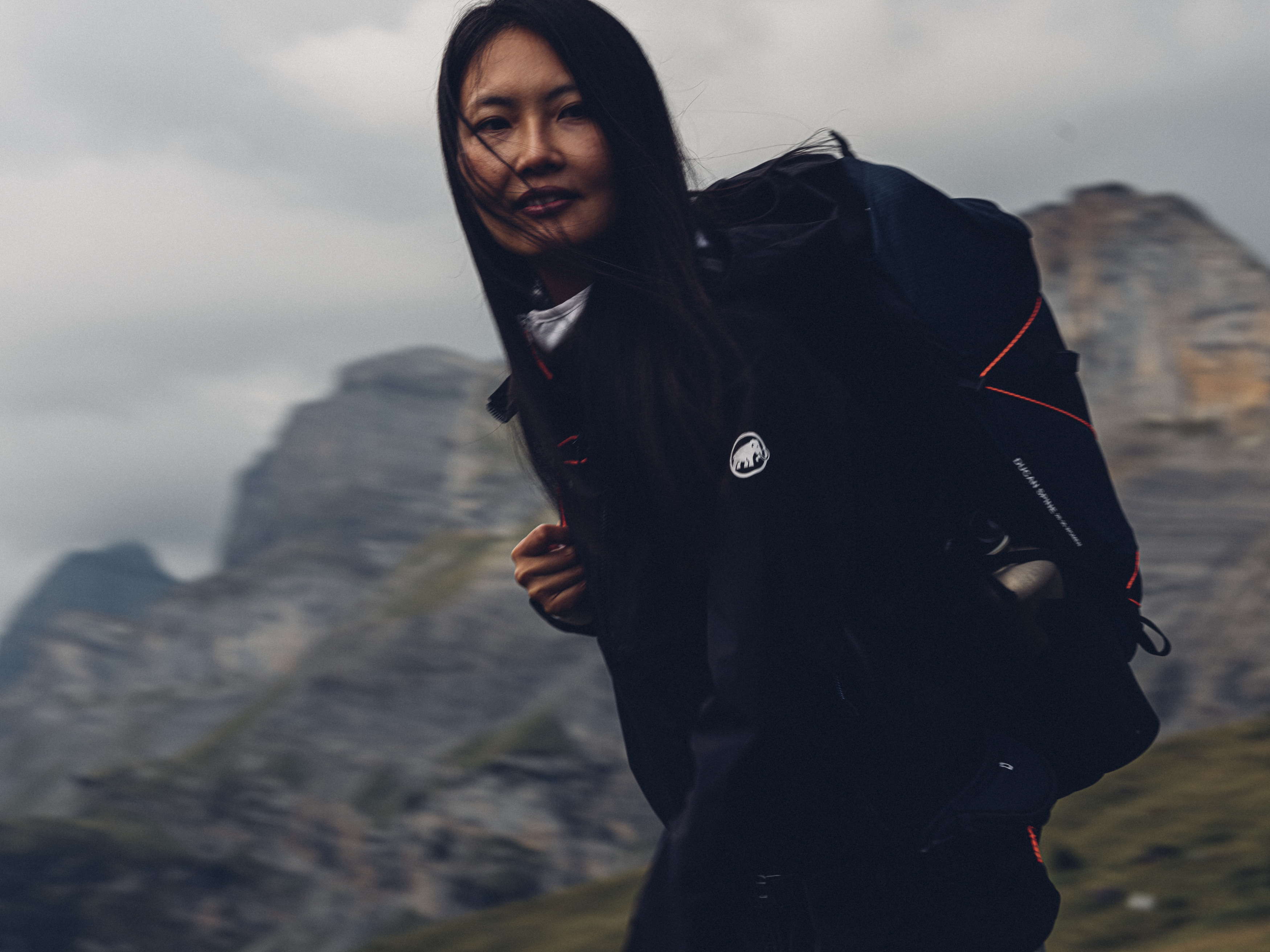 Ducan Spine 28-35 – Unisex | Women
The Ducan Spine is a hiking backpack with variable packing volume (28-35 L) and patented Mammut Active Spine Technology™. This flexible back system transfers the weight of a backpack evenly across the body while walking and has a strength-saving effect. The backpack works with the movement, not against it: When walking naturally, your shoulders tilt sideways, like the hips–but in the opposite direction. Innovative Active Spine Technology™ allows the upper body and hips to move freely through the movable support points of the shoulder straps and hip belt, coupled with a fiberglass rod. In addition, the shoulder straps are in constant contact with your body, resulting in less friction and continuous, even weight distribution during the walking motion. Its lightweight (1400 g) and integrated mesh back further offers additional comfort by providing good back ventilation. True to the "access on the go" principle, pockets with access are integrated in the Ducan Spine: when worn, the backpack's side pockets are easily accessible at all times. The unisex version also features practical mesh pockets on the shoulder straps, while the women's version offers a fold-out cell phone pocket on the hip belt. Furthermore, in the women's version, the carrying system, fit, and ergonomics are perfectly adapted to the female anatomy—for the perfect fit. The sustainable PFC-free durable water repellent impregnation (DWR) and integrated, removable rain cover protect the Fair Wear backpack in both versions in all weather conditions.
SRP: 220,00 Euro | 175,00 GBP | 2.399,00 NOK
​Unisex: Size 28-35 L | black, sapphire-black, dark jade-black, hot red-black
​Women: Size 28-35 L | marine-black, granit-black, blood red-black 
Sun Peak Cap
On hot days with lots of direct sunlight, this lightweight snapback cap offers sun protection up to UPF50+. With its stretchable fabric, the cap is a comfortable fit, and you can adjust the size too. The cap's quick-drying and moisture-regulating properties can be attributed to its miDori finish, making it the ideal headgear for sweaty adventures.
SRP: 27,00 Euro | 36,00 GBP | 499,00 SEK | 499,00 NOK
​Unisex: Size S-M – L-XL ​ | black, deep ice, dark jade, platinum 
The entire collection will be available from spring 2023 on mammut.com, in Mammut shops and in partner retailers.
Download product images:
Just click on gallery bellow and press the blue "Download" button in the gallery view.
Action Images – © Mammut:
About Mammut
Founded in 1862, Mammut is a Swiss outdoor company that provides high-quality products and unique brand experiences for fans of mountain sports around the world. This leading international premium brand has stood for safety and pioneering innovation for 160 years. Mammut products combine functionality and performance with contemporary design. With its combination of hardware, shoes and clothing, Mammut is one of the most complete suppliers in the outdoor market. Mammut Sports Group AG operates in around 40 countries and employs around 800 people.
Media contact
Dani O. Kommunikation is in charge of Mammut's PR activities in Switzerland, Germany, Austria, the UK and Scandinavia. If you have any questions or interview requests, please do not hesitate to contact us.