Mammut Hiking Collection Fall 2023
Whether you're spending a night under the stars, hiking picturesque trails, or escaping from the stresses of everyday life into the tranquil wilderness – getting out into nature is the best way to capture those moments that move, touch, and shape us. The new Mammut hiking collection for Fall 2023 cuts through the noise with all the right gear and a keen sense of adventure.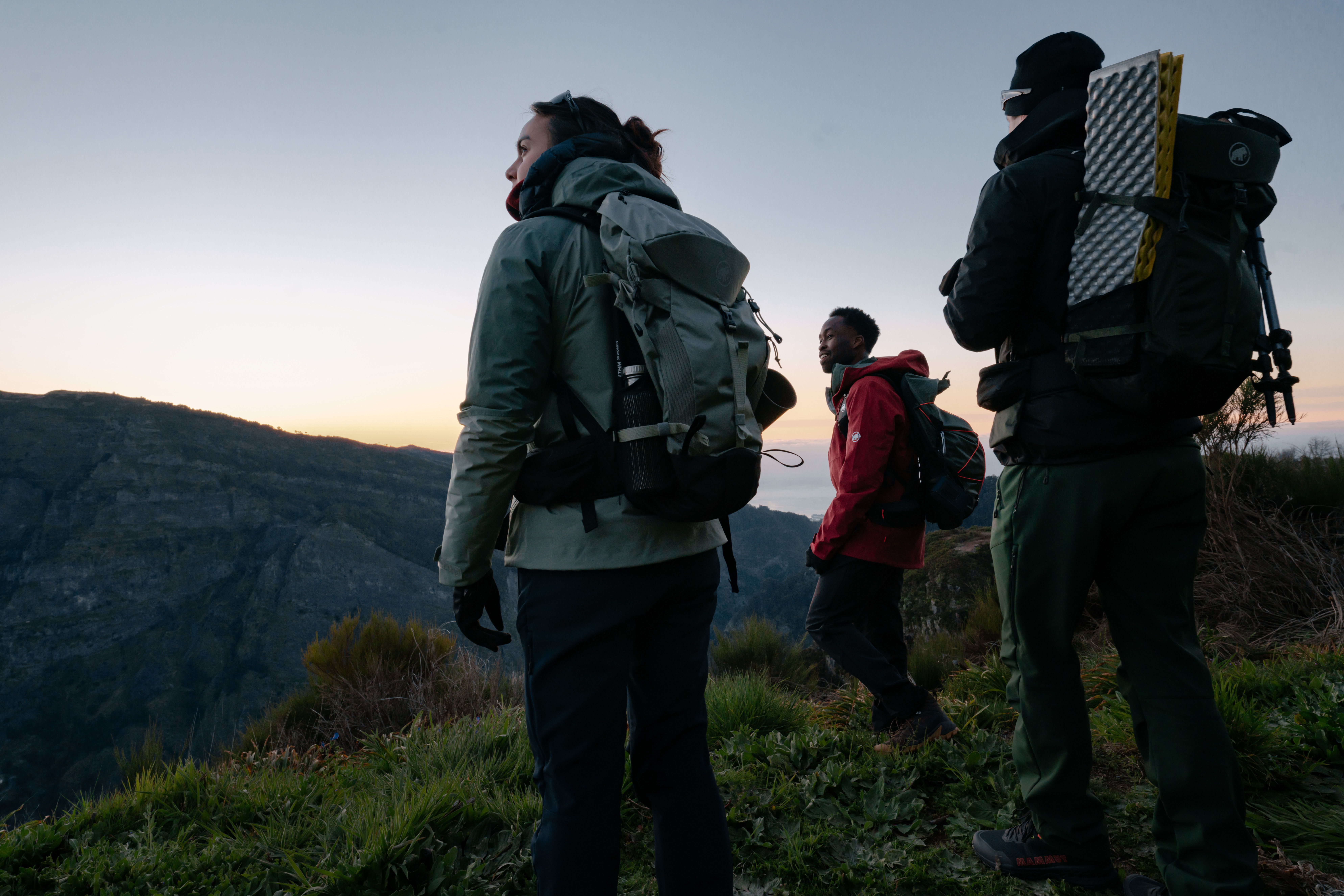 Renewable raw materials and natural fibers meet recycled textiles and innovative technologies in these functional hiking essentials. While an often overlooked classic – the Mountain Shirt – gets a brand new update. In a variety of basic silhouettes for men and women, it's an ode to the freedom of the mountains, captured in fabric and design. 
From jackets to accessories, from sleeping bags to base layers, these are just a few of our collection highlights: 
Alto Guide HS Hooded Jacket Men | Women
A great all-rounder for any terrain – the Alto Guide is the ideal jacket for all your mountain adventures. Ultra-versatile, this durable hardshell jacket is packed with clever features. From backpack-compatible front pockets to a helmet-compatible hood with reinforced brim and the 2-way zipper. In classic Mammut style, sustainability is always a priority: The Alto Guide is bluesign® certified, made from recycled materials, and PFC-free – its membrane is based on 100% renewable raw materials.
MSRP: 325.00 EUR | 365.00 CHF
​Men: Size S - 3XL | black, deep ice-marine, dark jade-woods, cheetah, blood red, dark tangerine
​Women: Size XS - XXL | terracotta, blood red, marine, supernova-marine, jade-dark jade, cool blue-deep ice, black
Arctic ML Hooded Jacket Women 
Made from recycled materials and with an optimal warmth-to-weight ratio (530g / M), this mid-layer with a hood combines high performance with ultimate comfort. The soft, quick-drying Polartec® Thermal Pro® fleece is durable and doesn't fuzz. Comfy and heat-retaining, it features two zippered pockets, a covered low profile chin guard and flatlock seams for a comfortable fit under your backpack. The Arctic ML Hooded Jacket is ideal for a range of winter sports as well as relaxed days in nature. 
MSRP: 200.00 EUR | 230.00 CHF
​Women: Size XXS - XL | blood red melange, navy melange, dark jade melange, deep ice melange, platinum melange
Tamaro Longsleeve Shirt
It's all in the blend: The Tamaro Longsleeve Shirt fuses durable, temperature-regulating hemp fiber that's antimicrobial and odor-resistant with moisture-wicking, quick-drying recycled polyester. This loose-fitting button-down shirt can be worn by itself or layered up as a light autumn jacket or mid-layer. It features two chest pockets with buttons as well as adjustable cuffs.
MSRP: 150.00 EUR | 170.00 CHF
​Men: Size. S - XXL | blood red-black, cheetah-black, dark jade-wood
​Women: Size XS-XL | blood red-black, supernova-marine
In the "Un-dyed" varieties for women, the shirt is made from 100% organic cotton – Organic Natural Color Cotton (ONCC). The cotton that gives the garments their color is handpicked and grown from ancient, unmodified seeds using regenerative cultivation methods. 
MSRP: 125 EUR | 135.00 CHF
​Women: Size XS-XL | light brown
Alvra Longsleeve Shirt Men
Made from FLOCUS™, an extra-soft blend of organic cotton, kapok and lyocell, this classic flannel shirt has a natural feel for ultimate comfort. Kapok fibers, derived from the non-edible fruit of the kapok tree, have natural odor-inhibiting properties. The shirt features a classic design, front button placket and two chest pockets. Also available in an "Un-dyed" version made from 100% organic cotton, free from dyes.
MSRP: €150 | 170 CHF; Undyed: €125 | 135.00 CHF
​Men: Size S-XXL | marine-tit., cheetah-black, marine-deep ice, black-blood red
Selun FL Longsleeve Shirt Women
The Selun First Layer Longsleeve top does away with unnecessary frills, making it a practical must-have for all kinds of open-air activities. The quick-drying stretch fabric is ultra-comfortable, along with offset shoulder seams, a lightweight finish (143g / M) and a relaxed fit. With a sun protection factor of 50+ and the odor-inhibiting properties of the HeiQ Fresh treatment, which is completely free of silver, this is a top choice even in strong sunshine. Sustainability pros: The bluesign® certified knitted fabric made from recycled polyester reduces the ecological footprint, as does the more sustainable spin dyeing process – Solution Dyeing uses up to 90% less chemicals, up to 85% less water and produces up to 12% less CO2.
MSRP: 75.00 EUR | 80.00 CHF
​Women: Size XS - XXL | tangerine, salmon, marine, dark jade, neo mint, black
Mountain T-Shirt Men Trilogy
Made in Europe, the Fair Wear T-shirt combines comfort and functionality: The lightweight, breathable fabric made from recycled polyester and organic cotton ensures a comfy feel, while raglan sleeves help to prevent pressure points on your shoulders. The drirelease® technology ensures improved moisture-wicking for a quick-dry finish. The T-shirt is easy-care, crease-resistant and non-iron.
MSRP: 65.00 EUR | 70.00 CHF
​Men: Size S - XXL | marine, deep ice, off white
Zinal Guide SO Hybrid Pants | Women
With their clever hybrid construction, these durable softshell pants combine comfort and performance. Reinforced in key areas for durability, they feature a durable water-repellent DWR coating that's free of harmful PFC chemicals, guaranteeing optimal performance even in harsh, cold and wet conditions. Featuring four zippered pockets, mesh-lined ventilation zippers, adjustable leg hems with gusset and hook and loop fastener, and a fleece-lined waistband, the Zinal Guide SO Pants are the perfect hiking pants for fall and winter.
MSRP: 200.00 EUR | 220.00 CHF
​Men: short/regular/long | Size 44-56 | cheetah, deep ice-marine, black
​Women: Short/regular/long | Size 32-46 | cheetah, black
Winter Hiking SO Pants Men | Women
The warm and comfy fabric of these soft shell pants (2-L soft shell with fleece backing & Mammut SOFtechTM) is complemented by temperature-regulating vents on the outside of the legs. Articulated knee sections and the 4-way stretch fabric offer plenty of freedom of movement for hiking. These bluesign® certified hiking pants are also wind- and water-repellent thanks to the PFC-free coating (DWR), and include two zippered slit pockets.
MSRP: 180.00 EUR | 200.00 CHF
​Men: short/regular/long | Size 44 - 46 | woods, black
​Women: short/ regular/long | Size 32 - 46 | marine, black
Sapuen High GTX – Women | Men
The Sapuen High GTX are the perfect choice for any terrain. Mammut Flextron® Technology supports the natural movement of the foot, for an efficient, energy-saving effect while hiking and mountaineering. The 3D Memo Foam padding adapts to the shape of the foot and provides outstanding comfort, support and protection against blisters.  Mammut Georganic® 3D Technology ensures maximum comfort. All parts that come into contact with the foot are anatomically shaped for a perfect fit, and the classic tongue construction makes them easy to get on and off. The Sapuen High GTX are optimized for hiking, offering good grip on outdoor surfaces thanks to the Vibram® Flextron II rubber blend used in the soles, while the sole design supports self-cleaning. The waterproof GORE-TEX lining ensures your feet stay dry. 
Flex Index: A6, Heel Drop: 10mm, Lacing System, Standard Lacing, Performance Index: Hiking, Weight (UK 5.5): 470g, Fair Wear 
MSRP: 210.00 EUR | 240.00 CHF
​Men: Size EU 40 - 48 / UK 6.5 - 12.5 | wren-amber green, black-dark radiant, dark titanium-dark ice, black-hot red
​Women: Size EU 36 - 42⅔ / UK 3.5 - 8.5 | dark sand-black, dark steel-neo mint, black-dark frosty, black-dark salmon, dark titanium-light grape, dark tin-amber green ​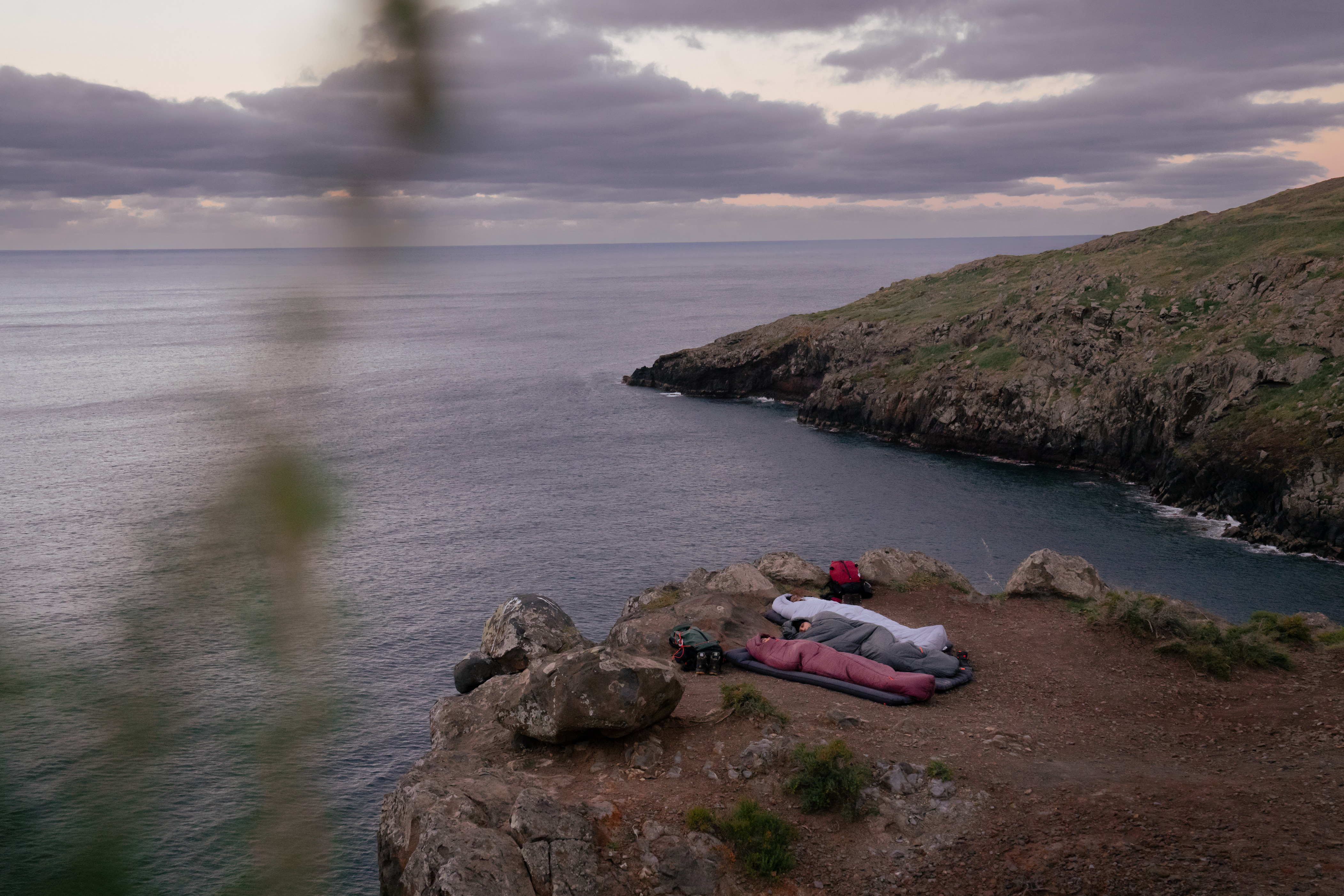 Recovery Series: Sleeping Bags
Perform Down Bag Unisex -7°C ​ | Women -10°C
​Protect Down Bag Unisex -18°C ​ | Women -21°C 
Inspired by natural sleeping positions, the classic mummy-style shape of both of these sleeping bags offers greater freedom of movement in the upper body area. Soft fabric at the head minimizes noise to ensure a restful night's sleep. An updated anatomical foot box provides added comfort without adding extra weight. The central 2-way zipper allows intuitive temperature regulation, while the improved YKK zipper prevents fabric pinching. Optimal protection from the cold is guaranteed by an insulating chamber around the hood opening, a magnetic closure on the thermal collar, an insulated cover along the zipper to protect against cold spots, and a zipper garage. For expeditions in extremely low temperatures, where your breath almost freezes in the air, PROTECT sleeping bags guarantee the best protection against the cold, so that you can enjoy a restful night – with temperature ratings from -10°C to -21°C. They come equipped with additional zipper openings at the arms, allowing you to sit up and work freely with your hands while the sleeping bag remains closed. Perfect for preparing a hot drink over the gas burner.
Both models come with an internal pocket for storing valuables, a Deep Sleep mask, earplugs and pack sack. 
All Mammut RECOVERY sleeping bags are bluesign® products, which use only RDS certified down. The DWR is completely PFC-free and the polyester (PES) contained in the materials is recycled. 
Protect Down Unisex -18°C | Women -21°C
​MSRP: 600.00 EUR | 680.00 CHF
​Men: Size. M | safety orange, highway
​Women: Size M | petrol

​Perform Down Unisex -7°C | Women -10°C
​MSRP: 430.00 EUR | 490.00 CHF
​Men: Size M | safety orange, highway
​Women: Size M | petrol
Lithium 30 Unisex | Women
The Lithium 30 offers increased comfort on hikes thanks to its innovative CONTACT U Frame™ suspension system, which ensures good load transfer with plenty of freedom of movement as well as light and breathable shoulder padding. Air channels in the 3D EVA foam provide excellent cooling against the back. In the women's version, the carrying system and shoulder straps are specially adapted to suit the female anatomy. The forward pull hip belt and lateral compression straps are adjustable to ensure a precise fit. The flap offers great storage options with an external and internal pocket including key ring, a large zippered front pocket and stretch front pocket. Additional side mesh pockets are accessible on the go. The padded hip belt also has a fold-out pocket for things like your smartphone. Both the hip belt and the integrated rain cover are removable. The Lithium 30 is compatible with hydration systems. Sustainability pros: The backpack is made from 89% recycled materials and the durable water-repellent coating is PFC-free. 
MSRP: 140.00 EUR | 160.00 CHF
​Unisex: Size 30L | woods-black, sapphire-black, black
​Women: Size 30L | marine-black, jade-black
Ducan Spine 28-35 – Unisex | Women
The Ducan Spine is a hiking backpack with a variable packing volume (28-35L) and patented Mammut Active Spine Technology™. The flexible suspension system evenly distributes weight while you walk, which saves you energy. The backpack works with your movement and not against it: When you walk naturally, your shoulders and hips sway in opposite directions. Innovative Active Spine Technology™ allows the upper body and hips to move freely, thanks to the movable support points of the shoulder straps and hip belt, which are attached by a fiberglass rod. In addition, this means that the shoulder straps are in constant contact with the body, resulting in less friction and continuous, even weight distribution as you walk. The lightweight design (1400g) and integrated suspended mesh back panel further enhance comfort by ensuring good ventilation for your back. Following the "access on the go" principle, the Duncan Spine offers quick-access pockets: the side pockets are easily accessible while wearing the backpack. The unisex version also features practical mesh pockets on the shoulder straps, while the women's version offers a fold-out smartphone pocket on the hip belt. In addition, in the women's version, the carrying system, fit and ergonomics are perfectly adapted to the female anatomy – for an ideal women's fit. The sustainable PFC-free, durable, water-repellent coating (DWR) and an integrated, removable rain cover protect both versions of the Fair Wear certified backpack whatever the weather conditions.MSRP: 220.00 EUR | 250.00 CHF
Unisex: Size 28-35 L | black, sapphire-black, dark jade-black, hot red-black
​Women: Size 28-35 L | marine-black, blood red-black
Valbella Beanie
This classic cable knit hat in a wool-acrylic blend was made in Germany from merino wool obtained without mulesing. Weight: 131g Features 
MSRP: 45.00 EUR | 55.00 CHF
​Unisex: One Size | blood red, dark jade, deep ice, black
Massone Cap
A classic snapback cap made from organic cotton. The flat visor provides protection in bright sunshine, while the cap can be individually adjusted to fit. It's ultra-versatile and perfect for hiking. 
 MSRP: 35.00 Euro | 40.00 CHF
Unisex: Size S/M - L/XL | marine-marine, dark sand-dark sand, iguana-iguana, dark jade-dark jade, alloy-alloy, black-black
Astro Glove
The back of the Astro Gloves feature Gore-Tex Infinium™ Windstopper® material, which is windproof and breathable. The palms are made from durable and abrasion-resistant synthetic leather. The articulated construction conforms to the natural shape of the hand for a snug and comfy fit. Touchscreen compatible. Cut: Basic / Weight: 54g. ​ 
MSRP: 65.00 EUR | 70.00 CHF
​Unisex: Size 6-12 | black
Shelter Glove
Shelter Gloves are made with GORE® WINDSTOPPER® fabric, making them windproof and breathable. The finger and thumb tips fold back, allowing for super-easy smartphone use without having to take off the gloves. Other benefits of the Shelter Gloves include non-slip reinforced palms and knitted cuffs to keep your wrists warm. ​
​
MSRP: 75.00 EUR | 80.00 CHF
​Unisex: Size 5-12 | black
---
The products will be available from selected retailers or via mammut.com from September 2023. 
---
Download product images:
Just click on gallery bellow and press the blue "Download" button in the gallery view.
Action Images – © Mammut: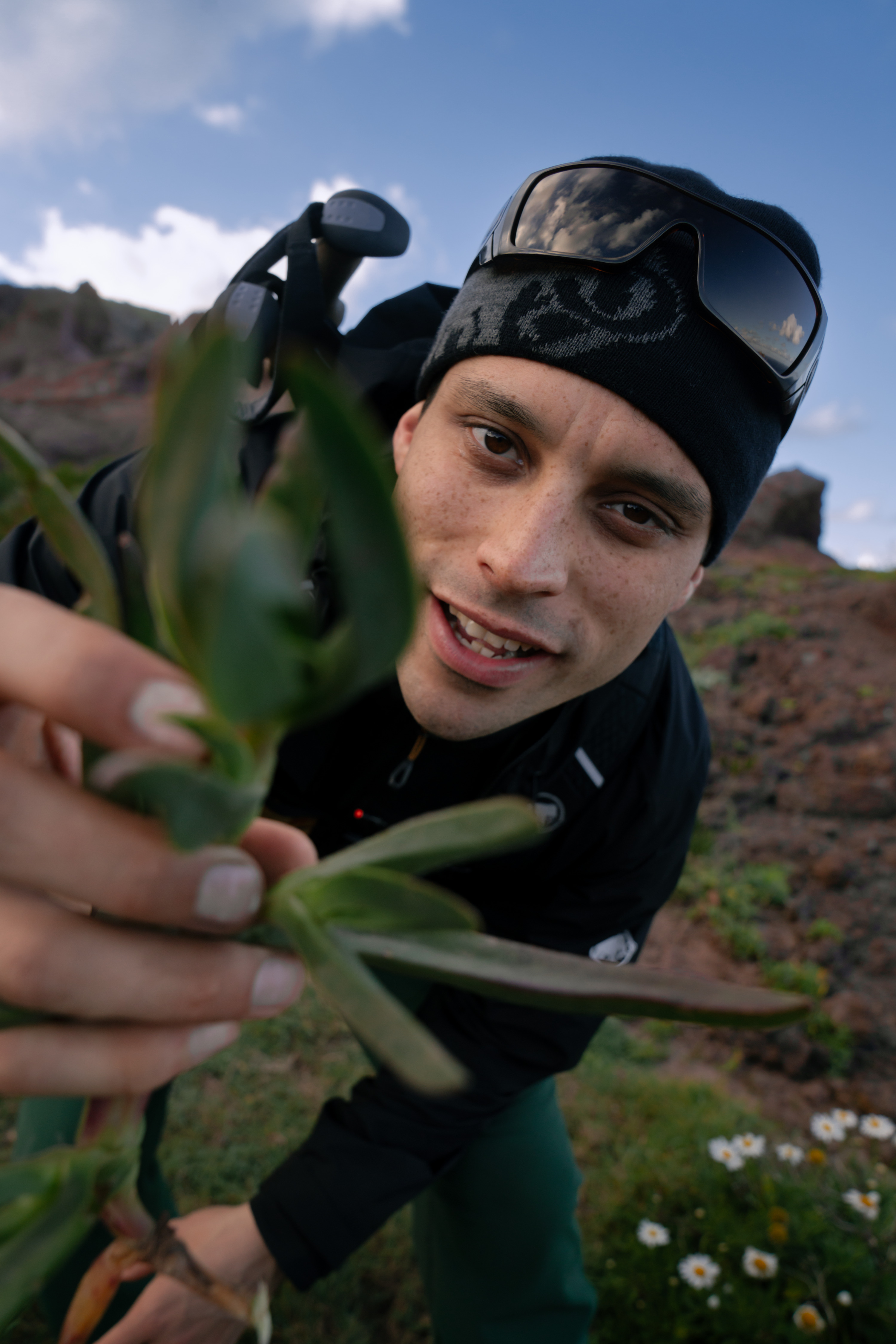 Product-Testing:
Find here a form to request a test sample:
​https://forms.gle/6HgNvnHSnM5jtB6g9
---
About Mammut
Founded in 1862, Mammut is a Swiss outdoor company that provides high-quality products and unique brand experiences for fans of mountain sports around the world. This leading international premium brand has stood for safety and pioneering innovation for 160 years. Mammut products combine functionality and performance with contemporary design. With its combination of hardware, shoes and clothing, Mammut is one of the most complete suppliers in the outdoor market. Mammut Sports Group AG operates in around 40 countries and employs around 800 people.
---
Media contact
Dani O. Kommunikation is in charge of Mammut's PR activities in Switzerland, Germany, Austria, the UK and Scandinavia. If you have any questions or interview requests, please do not hesitate to contact us.