POC Cycling FW 2021 Collection – Highlights
POC for the first time launches a special cycling collection for the cold, wet and dark season. The boundaries between the end and beginning of the season are blurring. The new winter collection faces the elements and makes the coldest headwind seem like a gentle summer breeze, lashing rain like a pleasant shower and frosty temperatures are kept away from the body. These are some of the highlights: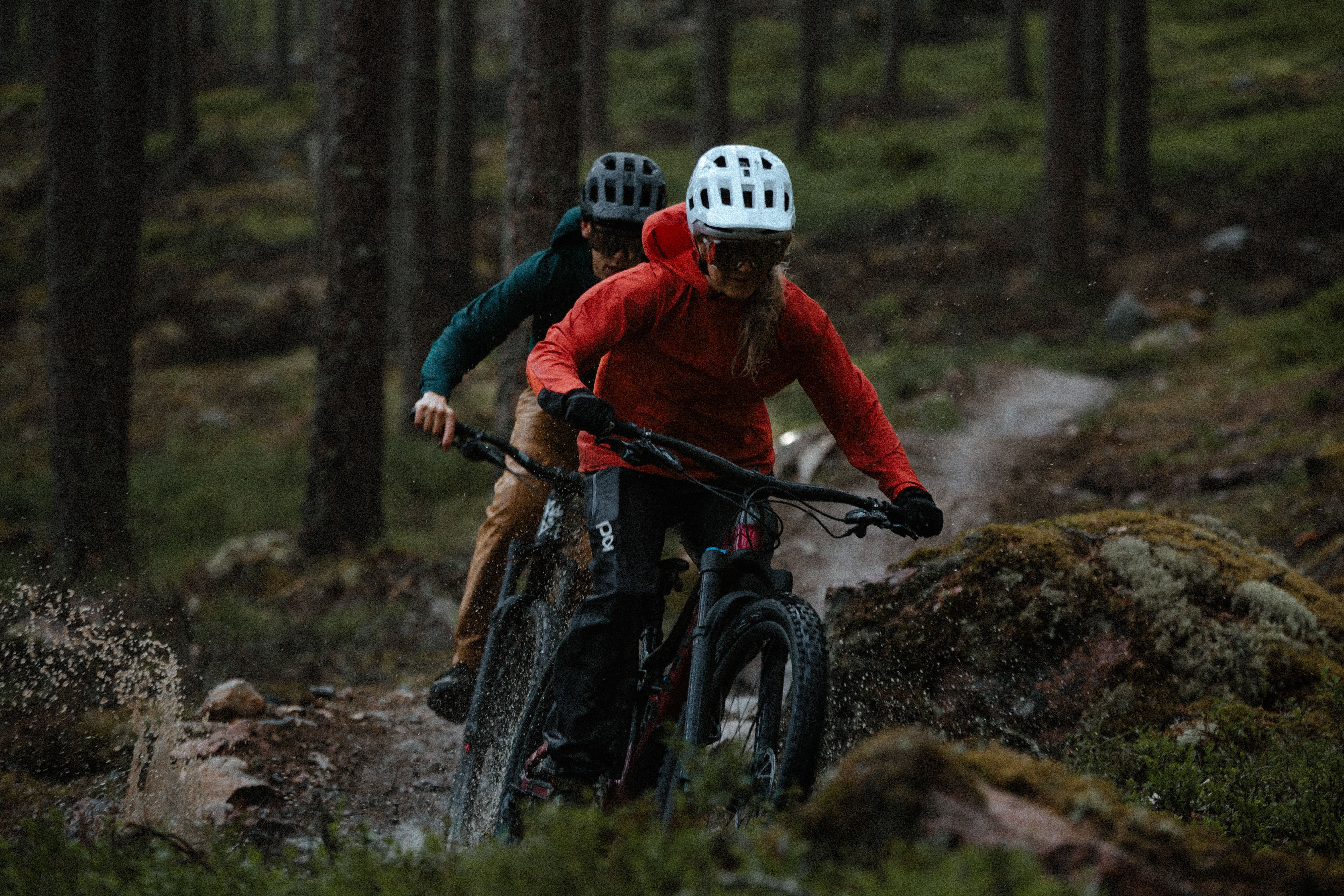 Consort MTB Dungaree
Earlier this year, the Consort MTB Dungaree has already secured one of the prestigious ISPO 'Winner' awards. ​ No matter how wet or muddy it is on the trails, the Consort MTB Dungaree Pants are there to help: with extra protection around the waist, reinforced zones, knee pad compatibility and exceptionally breathable, waterproof fabric, they offer protection, rugged durability and freedom of movement.
As close a companion as you could ever need, the Consort is there with you when the going gets rough. Developed for the very wettest and muddiest conditions, the dungarees give extra protection to keep you warm and dry. Constructed from a highly durable 3-layer fabric with stretch and reinforced with Cordura® the dungarees are highly breathable, hard wearing and waterproof. A 10-denier polyamide tricot on the inner gives further reinforcement. A double zip on one side gives both ease of access and ventilation, while a single zip on the other side can be used to adjust ventilation. Zipped pockets give secure storage for small ride essentials. Elasticated adjustable suspenders and a waist adjustment system make it easy to find the right fit, and elasticated cuffs at the ankle keep excess fabric out of the way while pedalling. The dungarees are cut to work with knee pads.
Highly durable dungarees for very wet and muddy conditions
3-layer stretch weave fabric and reinforced zones featuring Cordura®
Water proof material with 15000mm water column
Breathable with a moisture vapour permeability of 30000g/sm/24hr
Fluorocarbon free DWR treatment
10 denier polyamide tricot backer on inside
Compatible with POC knee protectors
Double zip one one side for ease of access and ventilation
Single zip on one side for ventilation
Zipped hand pockets
Zipped secure card pocket
Chest pocket
Waist adjusters
Adjustable elasticated suspenders
Elasticated ankle cuffs
​
Available from Fall 2021 ​
​RRP 490 Euro
​XS-XXL; ​
Oseus VPD Layer
Developed for extreme conditions, the Oseus VPD Layer combines a warming base layer with the highest level of back protection. Tested in extreme temperatures (-20°C and +40°C), the vest reaches EN1621-2, Level 2 standards, giving the same trusted protection in any climate, making it suitable for year-round use, either on snow or on a bike. The wool-polyester blend base layer is constructed with a cross-weave so the wool sits next to the skin for extra comfort. Three back pockets give added functionality and a separate zipped card pocket keeps your lift card safe. The back plate can easily be removed for washing.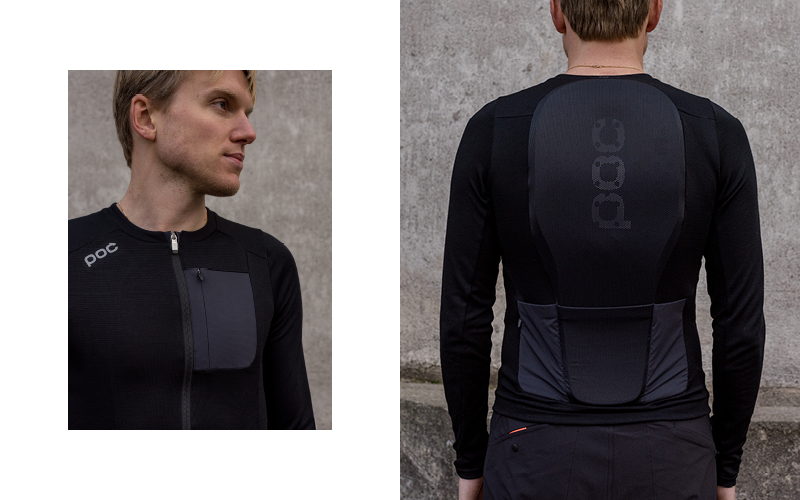 • Back protector tested to EN1621-2, level 2 standard
​• Ventilated VPD protector
​• Wool-polyester base layer
​• Cross-weave construction keeps wool next to the body for extra comfort
​• Open back storage pockets
​• Smaller zipped lift card pocket
​• Can be used year-round, either on snow or while cycling
​• Hanging hook on outside neckline
​• Removable back plate
​
Available from Fall 2021 ​
​RRP 200 Euro
​790 g (M); S-L; Color: Black
M's / W's Mantle Thermal Hoodie
Sometimes a jacket is too much, and a jersey is not enough. Those are the times to call on the Mantle. Constructed from a stretchy and insulative recycled double-layer thermal polyamide, the hoodie has a durable outer for extra protection from trail-side obstacles. A fluorocarbon free DWR treatment and wind-resistant properties give weather protection in changeable conditions. Featuring a hood that can be worn under a helmet and lycra cuffs, the hoodie can be worn in multiple ways. A quarter-length zip makes it easy to get on and off, and gives the option of more ventilation while riding. Extra features include an eyewear holder on the chest, a zipped pocket to the rear and a POC logo on the front.
Thermal hoodie
Stretchy and insulative woven double-layer recycled polyamide
Brushed inner traps warmth
Durable outer protects from trailside obstacles
Wind resistant
Hood can be worn under a helmet
Lycra cuffs ensures sleeves don't slip
Fluorocarbon free DWR treatment
¼ length zip across shoulder
Sunglasses holder on chest
Zipped card pocket
Available from Fall 2021 for women and men ​ ​
​RRP 150 Euro
​XS-XXL; Colors: Agate Red, Uranium Black (W's); Moldanite Green, Uranium Black (M's)
W's / M's Ardour All Weather Pants
The ideal choice for changing seasons, the Ardour pants give freedom, flexibility and protection perfectly tuned to unpredictable weather conditions. Highly breathable, the pants keep you dry from the inside. A lightweight stretch weave material is used on the front of the thighs and behind the knees for extra comfort. Paired with different highly waterproof and durable 3-layer materials over the calves, knee, seat and rear ensures dryness when riding on wet trails. Elasticated cuffs at the ankle give a close, secure fit. Highly durable, the pants are reinforced with Cordura® around the seat and below the knee. A small, zipped, card pocket is included on the waist for extra functionality.
MTB pants developed for unpredictable weather
Moisture vapour permeability of 30000gsm/24hr
Waterproof 3-layer materials with 15000mm water column from knee down
Cordura® reinforcements below the knee and in the seat
10 denier polyamide tricot backer on inside of both main and reinforcement fabric
Fluorocarbon-free DWR treatment
Velcro adjusters on waist give a secure fit
Two zipped hand pockets
Secure card pocket to the rear
Elasticated cuffs at ankles
Available from Fall 2021 for women and men ​ ​
​RRP 250 Euro
​XS-XXL; Color: Uranium Black
Rouse Shirt
Awaken your emotions and jump at every chance to ride with the Rouse shirt. Highly technical properties make this an ideal shirt for both MTB and general daily use. The shirts is constructed in a single layer twill from a highly durable polyamide and has stretch properties to enhance freedom of movement. Easy to wear, the shirt has a loose fit for a relaxed look over a base layer. The sleeves are large enough for elbow protectors to be worn underneath, and the shirt features a fluorocarbon free DWR treatment to keep light rain showers out. Snap buttons and an embroidered POC logo add to the relaxed style, while a chest pocket and an integrated holder for sunglasses give extra functionality.
Available from Fall 2021
​RRP 150 Euro
​XS-XXL; Color: Uranium Black, Argonite Brown
---
Please find extensive image material of the highlight products for download - © POC: HERE
Would you like to test products editorially? Feel free to place your order here: ​ https://danio.typeform.com/to/hBhPBv We send the test samples automatically according to availability. If you have a deadline, please specify it.

​Please do not hesitate to contact us if you have any questions: ​
POC Marketing / Paid Media Contact Europe:
Marcel Piermayr Marketing Manager Europe, POC ​
​[email protected]
​Mobile: +43 650 6810271
---
About POC
POC, a leading manufacturer of helmets, eyewear, body armor and apparel, has been awarded more than 60 international safety, design, and innovation awards. Founded in 2005 in Sweden, POC's mission is to 'protect lives and reduce the consequences of accidents for athletes and anyone inspired to be one'. www.pocsports.com