POCito CYCLING 2022
POCito is the essence of POC. Finding a new and innovative approach to solving an existing problem is at the heart of POC's philosophy. POCito works to proactively protect children. The key to protecting children is to make sure they are visible well in advance. POC uses bright and fluorescent colors that make it easier to be noticed. Reflective details create light reflections that attract attention. In addition, POC develops certified protection that is tailored to the specific needs of children.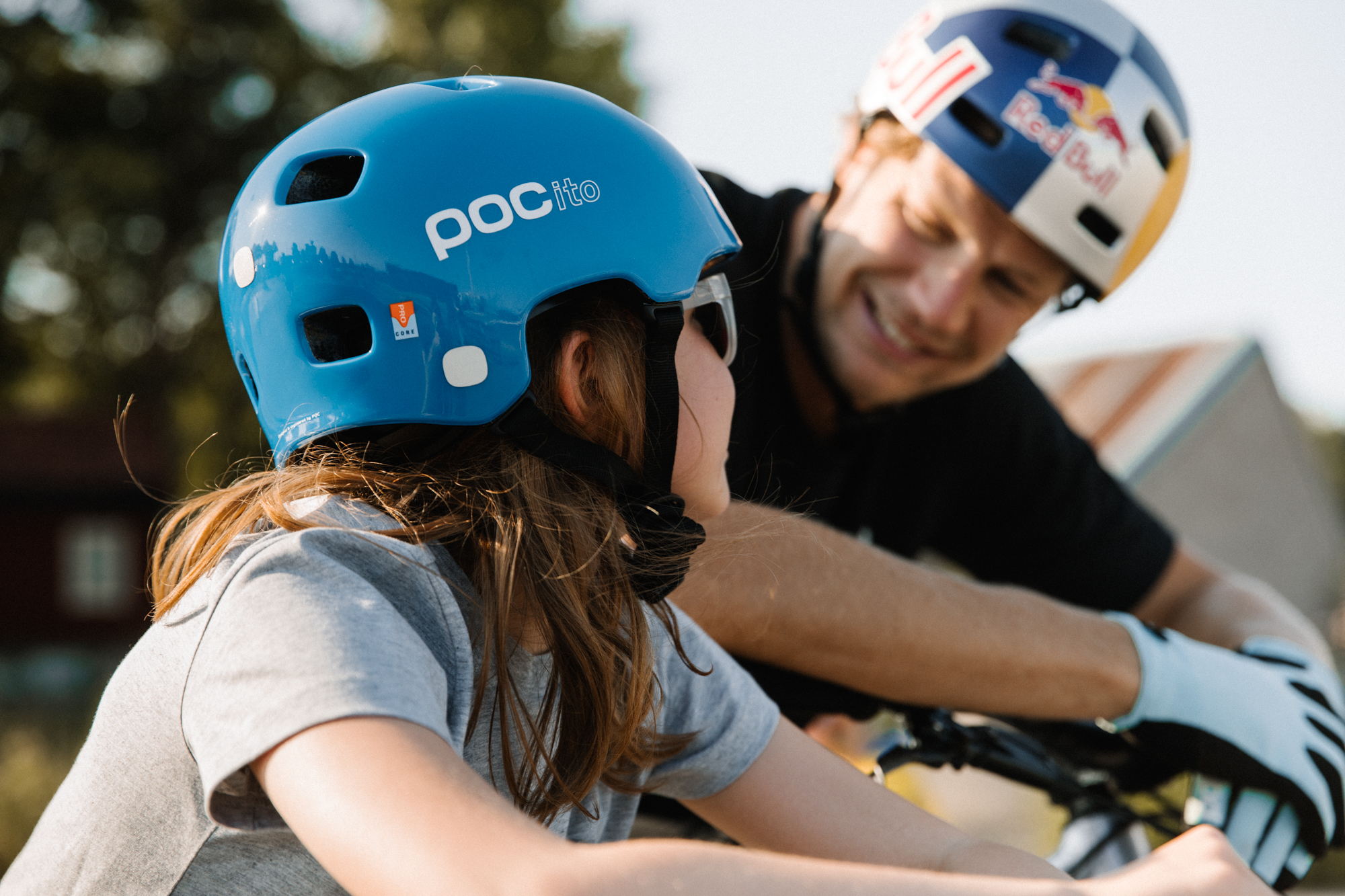 POCito Evolve Clarity
Kids eyes are still evolving and are more sensitive to light, so they require extra protection: the Evolve sunglasses are especially for them. Suited for kids aged 4–12, the Evolve has been specifically developed to fit the size and shape of children's heads. The frame is constructed from light, flexible and biologically based bio-grilamid and features snap-in hinges to ensure the temples break away in a fall, helping prevent damage. The new KidZ by Zeiss lens for children give the best protection for young eyes. The lens gives complete UV protection and minimises visible light transmission differently across all color wavelengths to prevent color distortion. For extra security, Evolve comes with a detachable lanyard. The Evolve sunglasses have been specifically developed for protection tailored to the unique needs of children.
Child-specific lenses (aged 4-12 years)
CAT 3, VLT 10%
100% UVA / UVB / UVC protection
KidZ by Zeiss lenses
Anti-reflective lens coating helps children get a clearer picture of what they see.
Ri-Pel™ protects from dirt, water, sweat, salt, oil and dust
Bio-grilamid frame (58% bio material)
Snap-in hinges ensure the temples can easily snap away from the rest of the frame in a fall, minimising damage.
Detachable lanyard fixes to the temples, giving extra security
Soft case included
Price: 89€
​Available in four color variants.
POCito CRANE MIPS HELMET
Developed for children, and based on the award-winning Crane cycling helmet, the POCito Crane MIPS now features MIPS rotational impact protection. The children's cycling helmet also features an advanced dual-density EPS liner for maximum protection from different impact forces. A stiff outer absorbs high-energy impacts and a softer inner absorbs impacts from low-energy crashes. Both work together to give a progressive stop if an accident does happen. A hard shell prevents denting, and the helmet is built for the kind of wear and tear young ones will give as they develop a love for cycling. This POCito helmet works to prevent accidents from happening. Fluorescent colors make it easier for others to spot kids, giving them time to react to their presence. Reflective details further improve visibility. The helmet also features an easy to use adjustment system to ensure that kids can easily find the right fit.
Sizes: XS-S (51-54cm)/ M-L (55-58cm)
​Certification: EN 1078
​Colors: Fluorescent Blue, Fluorescent Yellow/Green, Fluorescent Orange, Fluorescent Pink
​Price: 99,95 €
POCito LINER VEST
The POCito Liner Vest is a versatile reversible children's vest that can easily be worn over a sweater or under a coat for extra warmth. The children's vest is ideal as the seasons change, providing protection from cool winds and light showers. With a bright, extremely visible fluorescent orange on one side and a grey on the other, this reversible vest can be used to enhance the presence of a child. Reflective detailing, including the POC logo, features on both sides, helping make it easier for others to see children while they are wearing the vest. Ripstop construction means the vest can easily stand up to the tough use children can put their garments through. Open pockets on each side are deep enough to securely store a pair of gloves. A loop is included at the neckline, making it easy to hang. PrimaLoft® Black ECO insulation is used in the POCito Liner Vest. This alternative to down has a favorable warmth to weight ratio helping keep the vest light and comfortable for children. Moreover it is constructed from 80% post-consumer recycled polyester fibers.
Sizes: S, M, L ​
​Color: Fluorescent Orange
​Price: 79,95 €
POCito OMNE MIPS
The children's cycling helmet designed to support younger riders as they develop their skills. Sharing the same design philosophy as the Omne Mips, the POCito Omne MIPS is specifically tailored to meet the precise needs of younger riders. The helmet features a 360° fit system that makes it easy to find a secure and comfortable fit. The helmet's EPS liner is optimized for the protection children need. The inclusion of Mips enhances rotational impact protection, giving more security for children of all ages. As with all POCito products, the helmet is developed to support proactive protection for children. The POCito Omne MIPS is available in highly visible fluorescent colors that attract attention from a distance, so others notice children earlier. Reflective detailing makes it even easier for the helmet to grab attention.
MIPS: Brain Protection System gives improved rotational impact protection
EPS Liner: A lightweight EPS liner gives protection optimized for children
PC Shell enhances the structural integrity of the helmet
Adjustable 360° fit
Reflective Details: Reflective patches to the front, rear and on each side of the helmet make it easier for others to notice the wearer.
Fluorescent colors: Bright fluorescent colors make it easier for others to see the wearer from further away, giving more time to react to a child's presence
Sizes: XS (48-52cm), S (51-56cm)
​Certification: EN 1078
​Colors: Fluorescent Blue, Fluorescent Yellow/Green, Fluorescent Orange, Fluorescent Pink
​Price: 99,95 €
BEACON LED
The Beacon LED works to further enhance the visibility of a child wearing the POCito Omne Spin helmet. With both front and rear lights, the Beacon LED makes it easier for others to spot a child in all conditions.
Reflective surface
Two lamps: A white front-facing and red rear-facing lamp
Multiple light modes
Long battery life, will last up to 15 hours on a single charge.
Rapid charging, a full charge takes less than 1 hour via USB-C charging port
Velcro attachment
Included: Charging cable ​
​​
​Price: 19,95 €
​Available from spring 2022
POCito VPD AIR VEST 
A child-specific vest featuring lightweight and breathable VPD Air back protection that conforms to EN1621:2 Level 1 certification. The vest is constructed from a flexible and highly breathable mesh for added comfort. A full-length front zipper ensures ease of operation. As part of the POCito range, the vest supports proactive protection: it is available in highly visible fluorescent colors to help ensure others see your child early, thereby helping to avoid collisions on the slopes.
Sizes: S, M, L
​Colors: Fluorescent Orange, Fluorescent Pink, Fluorescent Yellow/ Green
​Price: 99,95 €
POCito JOINT VPD AIR PROTECTOR
The POCito Joint VPD Air Protector provides knee or elbow protection for children as they develop their riding skills in more testing terrain. Designed to stay with the child as they grow, the pads will fit over elbows if they no longer fit over the knees. The exceptionally lightweight and well-ventilated protector features POC's patented VPD Air material. It ensures that a child won't get too hot or uncomfortable while out riding trails. The material moves with easily with the body for ultimate freedom of movement. The protector is encased in a soft stretch fabric to ensure the pads are comfortable against the skin, and reinforced material on the outer won't tear even after years of repeated falls. Antislip neoprene patches help keep the protectors in place, and Velcro fastenings can be effortlessly operated by children, so it's always easy to get the children's body armor on and off.
Sizes: S, M, L
​Colour: Uranium Black
​Price: 64,95 €
Further information: https://www.pocsports.com
---
Please find extensive image material of the highlight products for download - © POC:
Would you like to test products editorially? Feel free to place your order here: ​ https://danio.typeform.com/to/hBhPBv We send the test samples automatically according to availability. If you have a deadline, please specify it.
Please do not hesitate to contact us if you have any questions: ​ 
---
About POC
POC, a leading manufacturer of helmets, eyewear, body armor and apparel, has been awarded almost 70 international safety, design, and innovation awards. Founded in 2005 in Sweden, POC's mission is to 'protect lives and reduce the consequences of accidents for athletes and anyone inspired to be one'. www.pocsports.com