POC's city and commuter collection – long live the human engine
What if the solution to many of our modern problems lies in an invention that is almost 200 years old? Using the bike for transport, exercise and recreation may not be new but to unlock its true potential and support everyday riders there's a need for modern, versatile protection and apparel. Products designed to be at their best in all the extremes.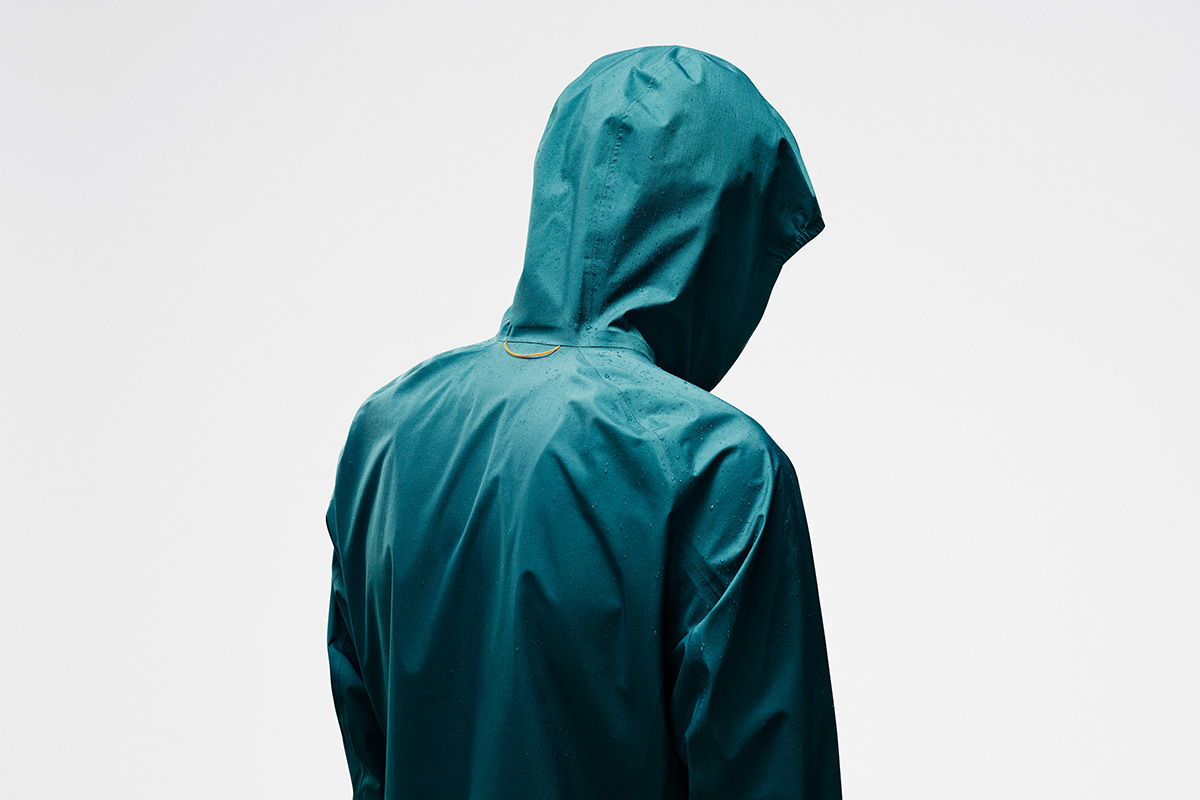 This is the core of POC's new collection for city and urban cyclists. Designed for those who want uncompromising protection and material innovation as they ride through the storms, the seasons or on any path they choose to follow.
The city and commuting collection – details:
Apparel
The Women's and Men's Motion Rain Jacket is at the centre of the collection, the ideal piece when the weather wants to throw everything at you. Whether riding through the city or heading out on the trails, the Motion Rain Jacket provides versatile and durable weather protection thanks to a 3-layer waterproof polyester with ripstop and a PFAS-free DWR treatment. Designed to offer durability, comfort and freedom of movement, the jacket also provides a helmet-compatible hood that is fully adjustable to create a snug fit under a helmet when the weather worsens. Designed to support various riding styles, protection from the elements is supplemented with several reflective details to support better visibility.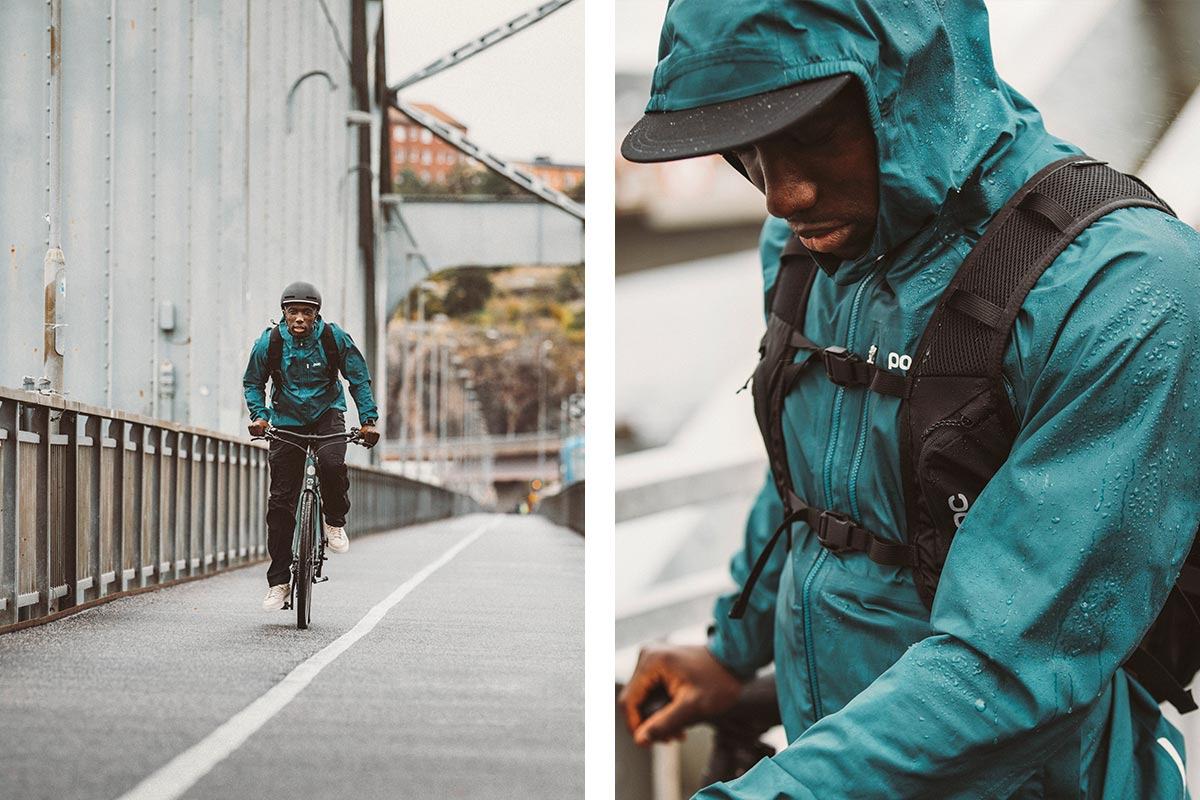 The Men's Motion Rain Pants are the perfect choice for versatility and weather protection. The rainpants are highly durable, comfortable and protective, constructed using a 3-layer waterproof polyester with ripstop and a PFAS-free DWR treatment and reflective details. The pants are highly functional, giving pedal-friendly freedom of movement and feature long leg zippers stretching to the knee to make it easy to get the trousers on over shoes.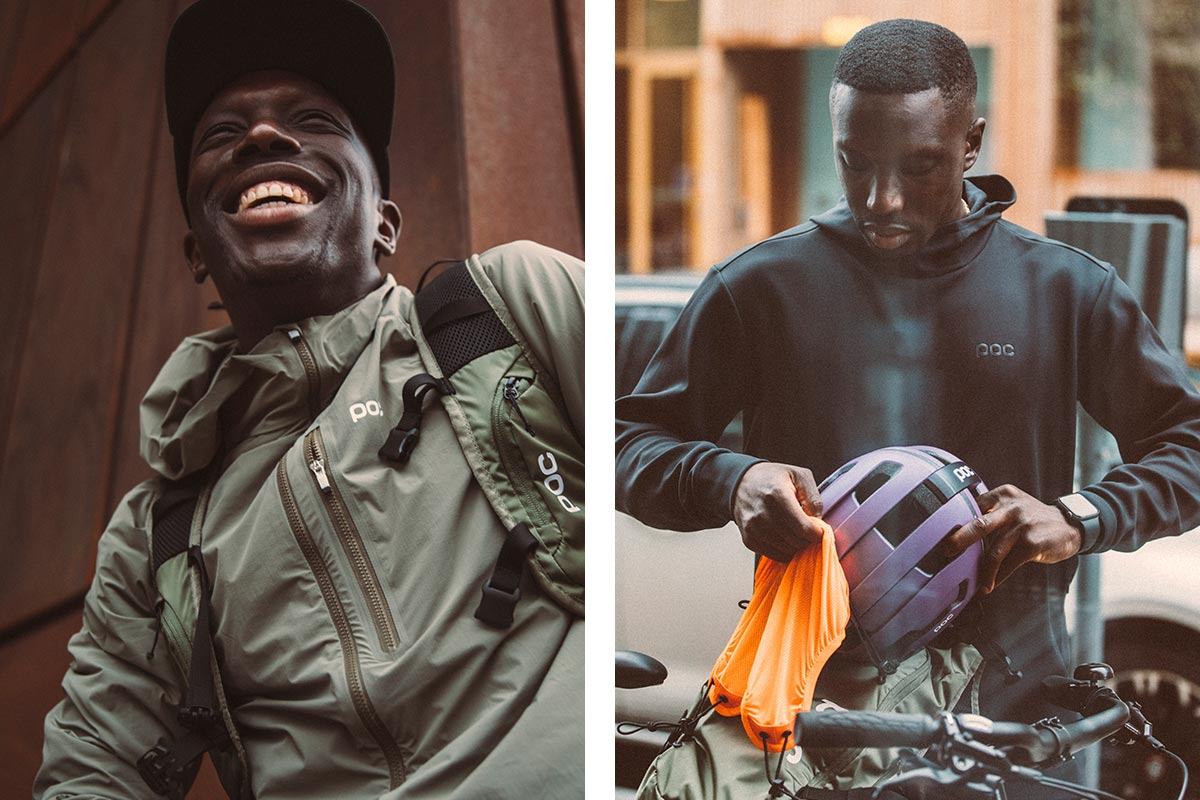 Developed for versatility, the Men's Motion Wind Jacket gives lightweight wind protection in various riding situations. Ideal in the city and on the trails, the jacket is constructed from a lightweight wind-blocking material to prevent those early mornings or late night chills. Splashproof, highly breathable and light, the jacket works to keep you at the ideal temperature. A four-way stretch material finished with reflective details ensures active comfort with protection and visibility.
Constructed from a soft, stretchy polyamide fabric, the Women's and Men's Transcend Shorts feature two open hand pockets and a single zipped pocket for the secure storage of a smartphone. To heighten your visibility in low light, particularly while cycling, a reflective panel that can be folded out is included in the rear pocket. Other small reflective details also feature on both the front and the rear of the shorts. These lightweight shorts are ideal for use both while training and exercising or while enjoying warmer weather.
Combining a casual style with absolute function, the Men's Poise Crew and Tee is a natural choice on or off the bike. Constructed using recycled cotton and recycled polyester, the heavyweight long-sleeve and t-shirt have a loose, casual style with riding functionality. Cut slightly larger, the Poise Crew Neck and Tee also feature a small, secure pocket on the lower left side so a lift, travel or credit card can easily be stored.
Protection
Inspired by skate helmets, the award-winning Crane Mips is a versatile cycling helmet ideal for everything from cycling around town and commuting, riding on a family adventure or hitting the dirt jumps. Ideal for everyday use, the Crane features a thicker outer shell to prevent dents or damage from scratches, making it easy to take the helmet anywhere without worrying about damaging it. The helmet's dual-density liner ensures a progressive stop after an impact, helping manage a wide range of impact forces better.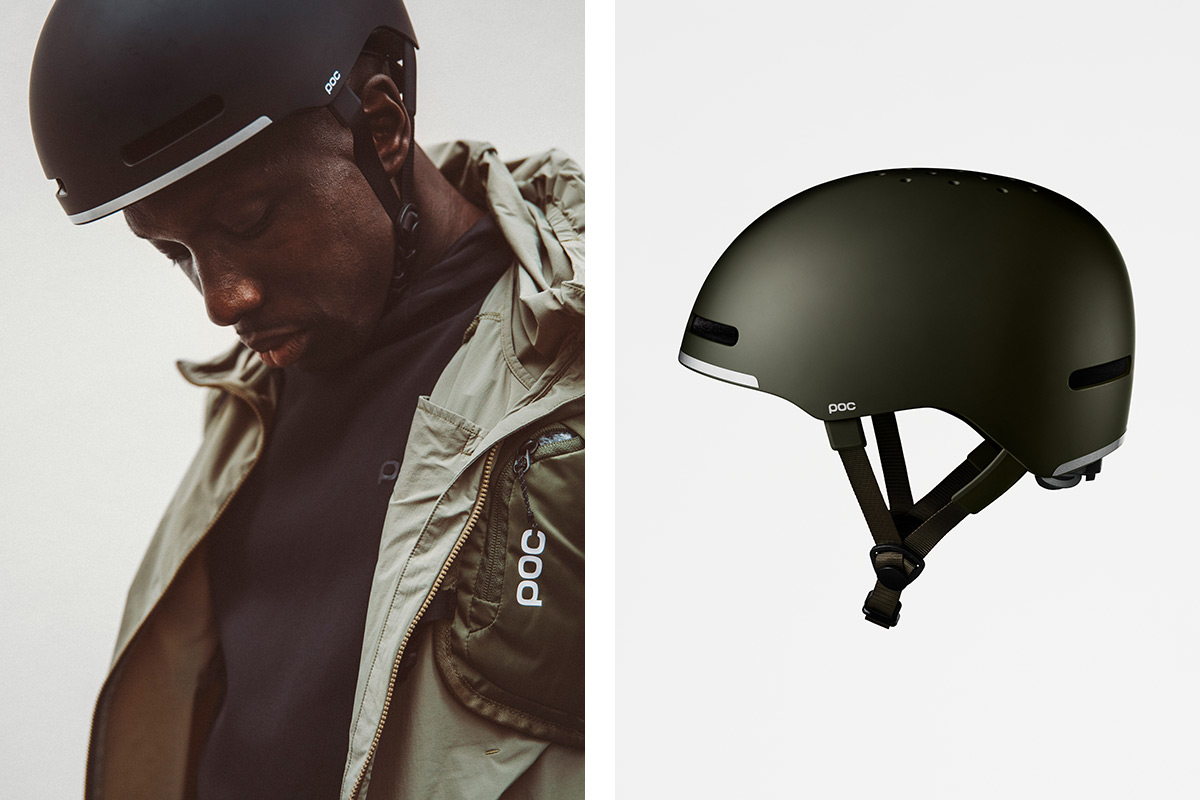 At ease in the city, the Corpora provides the ideal protection for commuting and day-to-day riding. Comfort is enhanced with a lightweight EPS liner and directional ventilation channels forcing air through the helmet. Small holes at the top allow heat to escape without letting rain in, making the helmet ideal for all weather conditions. A durable outer shell minimizes damage from daily knocks and dents, so the helmet liner can protect you properly when you need it most. Reflective stripes to the front and rear make it easier for others to see you in low light.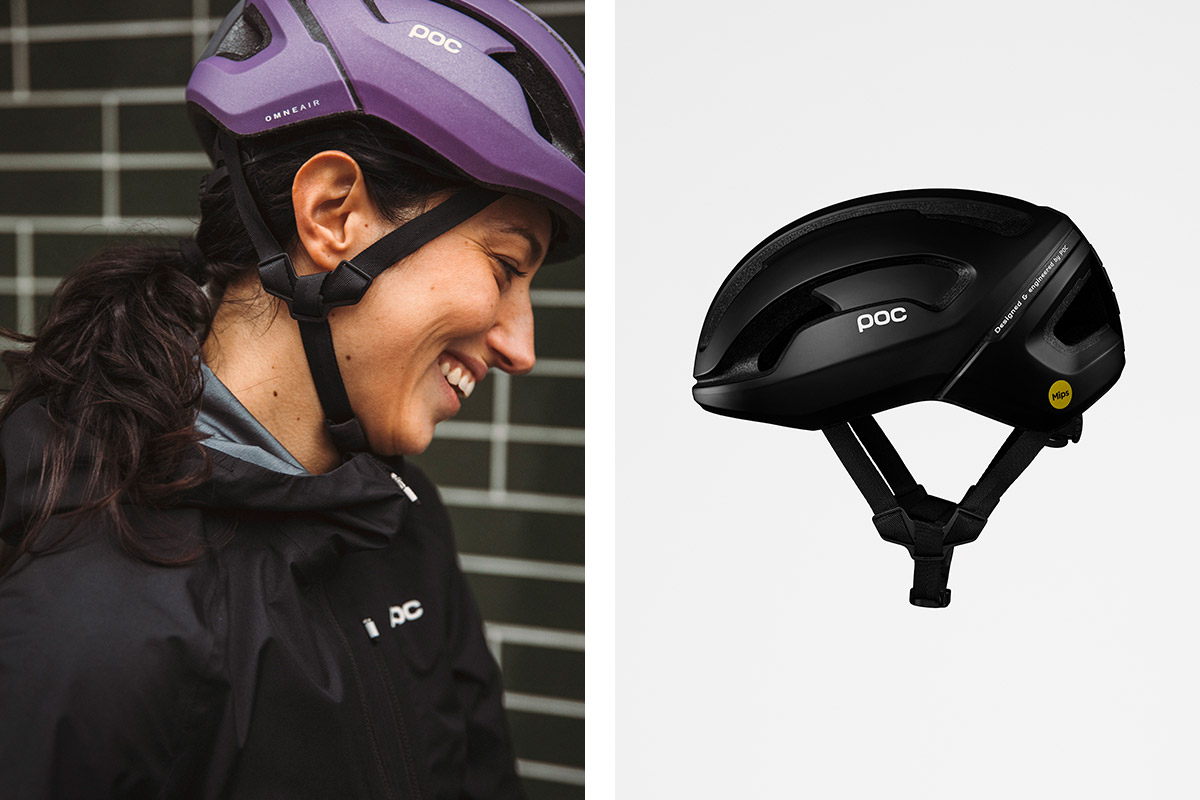 The Omne Air Mips and Omne Air Resistance Mips bring together the perfect blend of comfort, functionality, protection and performance and give the inspiration to ride all day. Featuring the latest technology from Mips, a slim profile with precise liner protection and a 360° fit system for precise comfort and fit.
Eyewear
The Avail Sunglasses are the ideal companion. Perfect for use every day, the sunglasses give exceptional eye coverage and benefit from performance attributes. Large lenses provide an optimal field of view, and a grippy rubber nosepiece ensures the sunglasses sit comfortably in place even while making an extra effort on the bike.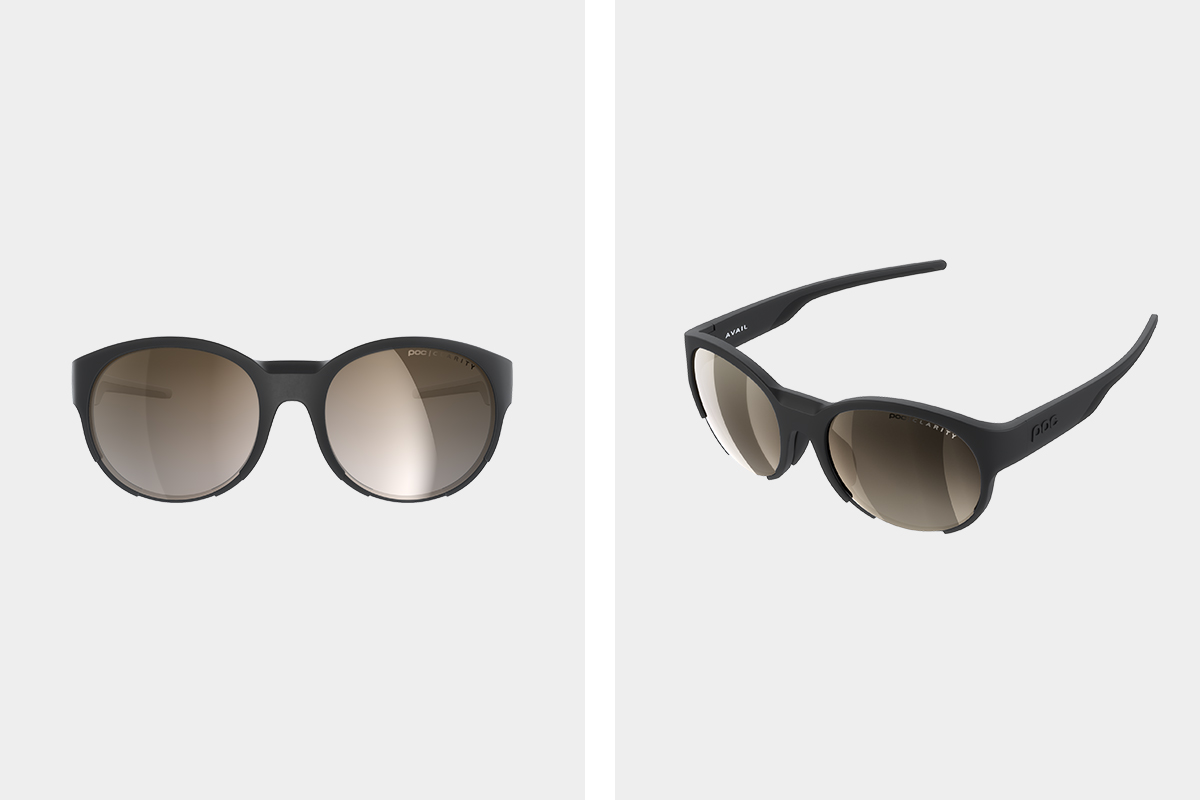 With a style influenced by POC's active heritage, the Define sunglasses are ideal while riding MTB or in urban settings. Clarity lens technology featured in the Define sunglasses controls the color spectrum for enhanced contrast and color definition for clearer vision in the environments you ride in.
Bags
The award-winning Column VPD backpacks have various carrying capacities to create the perfect storage for the trail or city. Constructed with recycled materials and featuring POC's unique VPD protective material, the backpack will mold to the user's body shape with body heat and harden on impact.
The 2-litre Lamina Hip Pack gives the freedom to ride without a backpack yet allows you to easily carry all the essentials for a day on the bike and in the city. Featuring compartmentalized storage for tools, some snacks, keys and a card, the hip pack keeps everything secure and lets you enjoy the freedom of riding.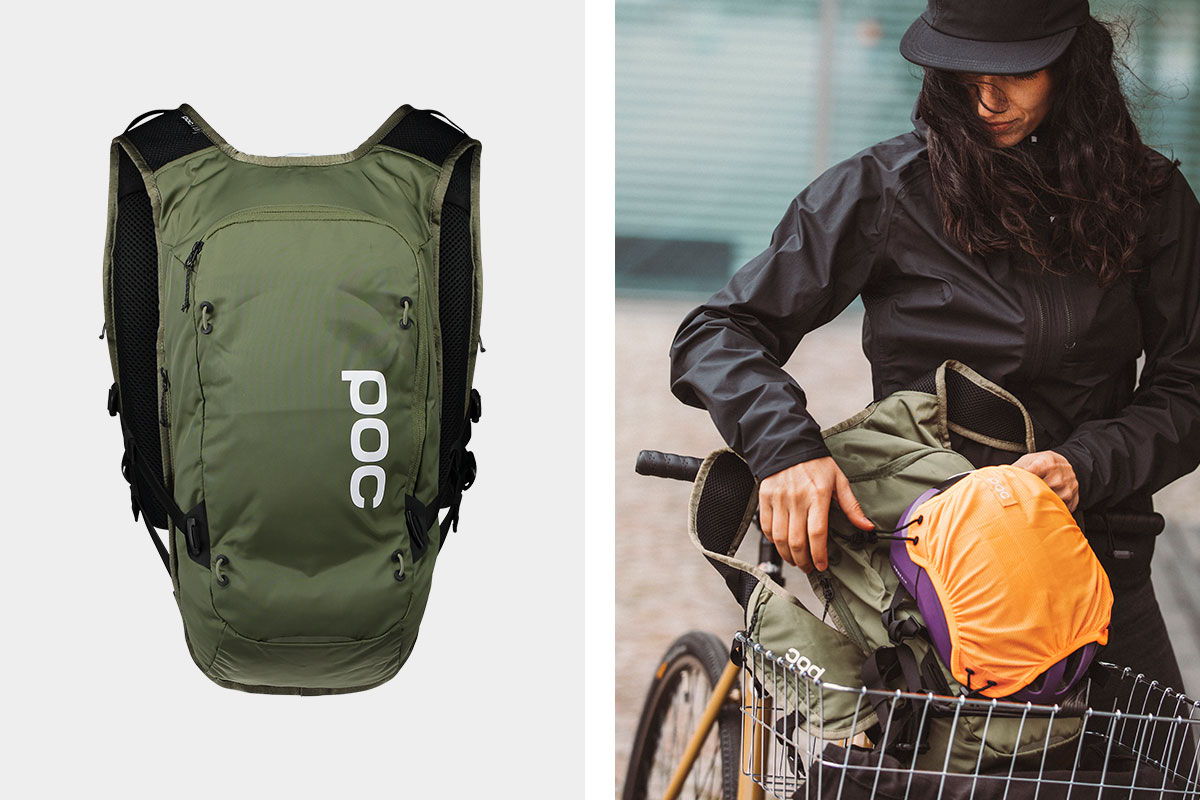 Accessories
Combining a classic style with performance features, the Urbane Cap gives riders protection and benefits from an easy-to-use buckle adjuster. The Transcend Cap pays tribute to cycling heritage, yet its thoroughly modern construction makes this a garment of ultimate practicality.
Commenting on the new city and commuter collection, Ingema Vik, Design Director, Apparel, POC, said,
"We wanted to enhance and encourage urban cyclists with a collection that would provide year-round versatility by embracing all the weather extremes. Whether for a daily commute or riding past the city limit in search of adventure, we have optimised the collection to manage the whole range of extreme conditions by merging highly technical fabrics with functionality and design."
All products are available online and in selected retail stores.
---
Assets
All assets are available here
More Spring/Summer 2022 products and details: https://press.dani-o.com/en/category/poc
Tests
Would you like to test a product editorially? Don't hesitate to let us know here: https://danio.typeform.com/to/hBhPBv Please specify in case you have deadlines. We'll send the products out upon availability.
More new POC products: https://press.dani-o.com/en/category/poc
---
About POC
POC, a leading manufacturer of helmets, eyewear, body armor and apparel, has been awarded more than 60 international safety, design, and innovation awards. Founded in 2005 in Sweden, POC's mission is to 'protect lives and reduce the consequences of accidents for athletes and anyone inspired to be one'.
---
Do not hesitate to contact us if you have any questions: ​ 
POC Marketing / Paid Media Contact Europe:
Marcel Piermayr Marketing Manager Europe, POC ​
​[email protected]
​Mobile: +43 650 6810271