RONDO MYLC: The Off-Road Plus Gravel Bike
The new RONDO MYLC manifests the innovative evolution of gravel bikes that performs exponentially better on rough terrain. Rather than looking to road bikes, the Polish specialists for gravel and (off-)road bikes drew their inspiration from mountain bikes. The result of the completely re-imagined frame geometry is unlimited exploring with maximum stability and comfort – even when going down steep descents or riding gnarly terrain.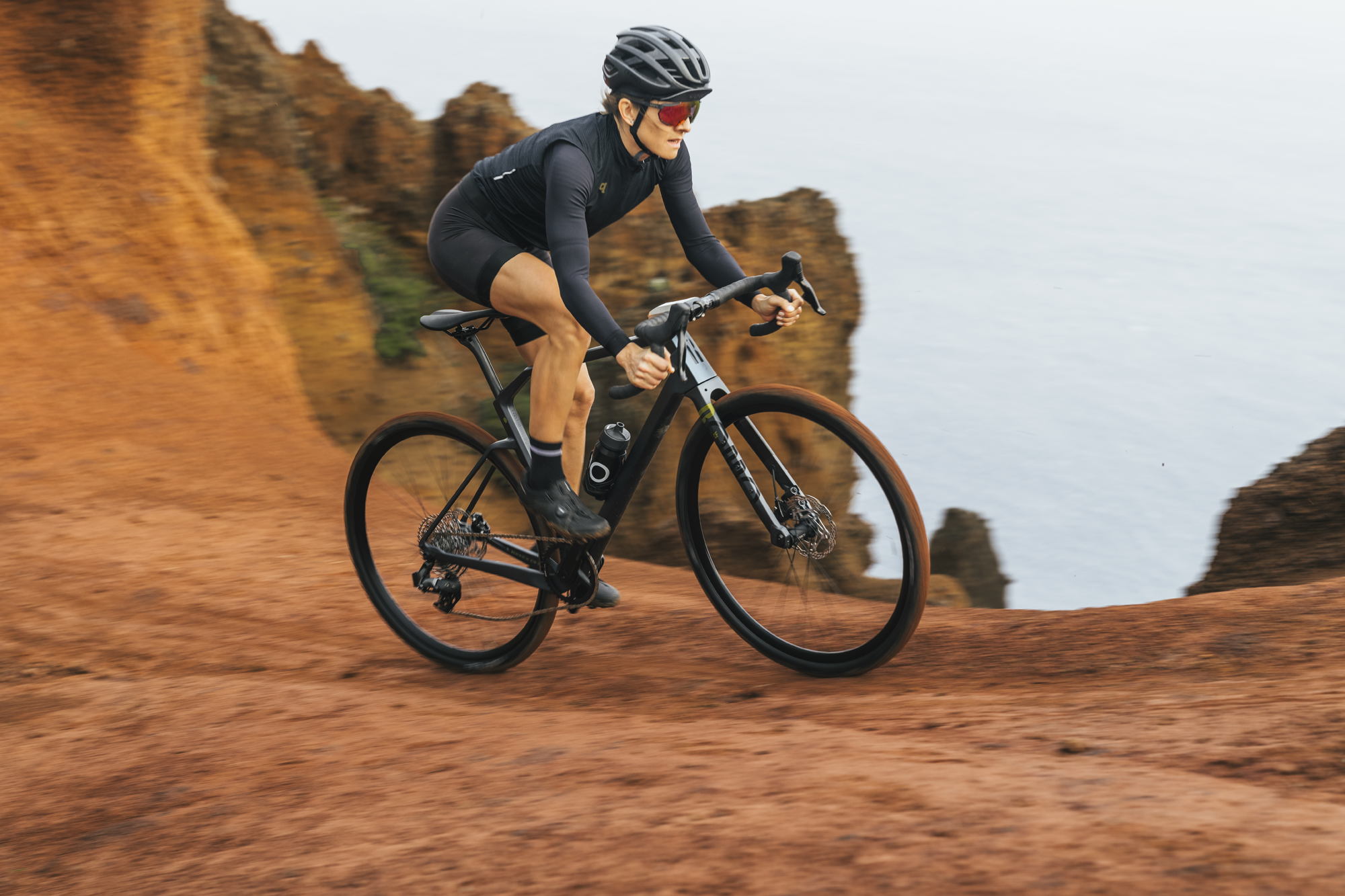 Washed out gullies, steep drops or challenging rough surfaces have not exactly figured in the comfort zone for gravel bikes and their riders until now. However, the new MYLC instantaneously has extended the boundaries of what is possible and rideable with a gravel bike and created a model that is playful, yet stable and descent oriented. While mountain bikes have constantly evolved and changed in recent years to continuously test their maximum capabilities, the general evolution of gravel bikes has been more conservative and heavily referenced road bikes. The MYLC now opens up new perspectives in the conception of gravel bikes. The ideal bike for those riders who are mountain bikers at heart and want a familiar feeling when on their gravel bike or simply spend a lot of time in the open backcountry and want the complete off-road experience.
The key to off-roading: Enhanced Gravel Geometry (EGG) 
A significantly longer reach and slacker head tube angle provide an elongation of the front center (up to 682 mm for size M). When RONDO's custom variable TwinTip axle is set to the LO position, the head tube angle is 68°. A generous tire clearance (max 700 c x 47 mm) adds to ride comfort and traction. In addition, a shorter seat tube (compatible with dropper posts) is used resulting in more flex in the seat post and a lower frame standover height, while making riding and handling even more stable.
The rethinking of the geometry means that the bike remains stable at high speed and performs even better on typical gravel tracks with long, sweeping curves and straight lines. The further the rider gets away from smooth roads and the beaten track, the more fun there is to be had. Rugged descents are where the bike unfolds its full potential providing a reliable and confidence inspiring ride sensation, as well as in rough terrain. Obstacles are less likely to throw it off track, and the bike offers extra comfort on gnarly long-distance rides. 
RONDO is launching the MYLC in two carbon variants, in aluminum and as a steel frame version. The bike will be available from fall 2022. 
RRP: Alloy € 2 399 / GBP 2 199, Steel € 3 199 / GBP 2 999, CF2 €3 699 / GBP 3 499, CF1 €4 899 / GBP 4 499
---
Assets – ©RONDO
Action Images: https://press.dani-o.com/media/album/17786
MYLC CF1: https://press.dani-o.com/media/album/17909
MYLC AL: https://press.dani-o.com/media/album/17910
Tests
Would you like to test a MYLC? Test bikes will be available in late summer.
Please fill out the form: https://danio.typeform.com/to/GmdB7ku9
Press release & specs
RONDO_MYLC_EN_Embargo.pdf
PDF - 5.1 Mb
Download
RONDO MYLC presentation.pdf
PDF - 1.9 Mb
Download
---
About RONDO:
We live, breath and sleep two wheels. We race each season on and off the road. We ride thousands of km each year. We commute to work on bikes every day. We are not pro racers though. We admire the heritage of the great tours, but we can't figure out who rides for which team these days. We started RONDO because we wanted to create bikes for real cyclists, like us, and most probably like you. For people who have no time to waste on talking and want to get straight to the point. People who love to kick everyone's ass in the local race, beat their PR on a climb, but also do a relaxed gravel ride with their friends. We started RONDO because we wanted to create bikes that are beautiful - technically and visually. Bikes that stand out from the crowd. We started RONDO because we wanted to change the way drop bar bikes are perceived by both, roadies and mountain bikers. We absolutely love to watch the faces of our road racing friends when they hit the gravel for the first time, absolutely loving it. Or see our MTB buddies gleaming with joy like kids when they get on the drops and go full gas around their local trails.
With 15 years of experience in manufacturing bikes we put together a new team that includes the best industrial and graphic designers, engineers, riders, and experienced business managers. Here we are.
---
Please contact us at any time with any questions: