RONDO RUUT AL GEN 3: The evolution of the ultimate gravel-allrounder
A gravel bike that feels great on any terrain. A gravel bike that is always one pedal stroke ahead of its time. And a gravel bike that catches every eye, boasting unrivaled aesthetics. Since blazing onto the scene in 2017, the RONDO RUUT AL has reigned as the epitome of the perfect off-road racing bike. Now the Polish specialists for gravel and (off-)road bikes have unveiled the latest iteration of their classic. The result is the ultimate all-rounder for gravel exploits of every sort—the RONDO RUUT AL GEN 3.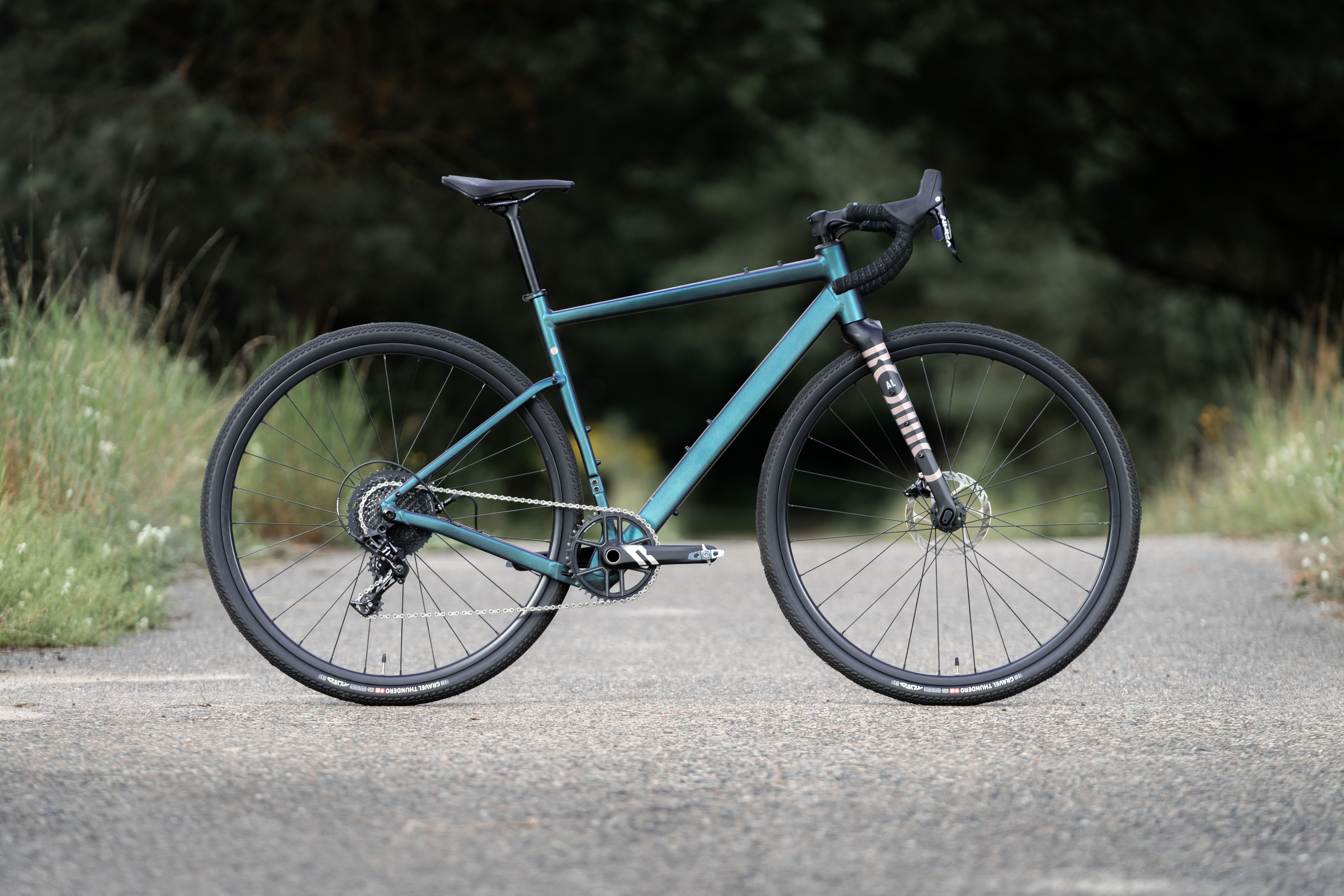 A trailblazer that shaped history. Make no mistake, ever since bursting onto the scene in 2017, the RONDO RUUT AL has etched its name as a true legend in the realm of gravel bikes. A gravel bike that embodies aesthetics, innovation, and unbridled power all in one. With just the right blend of audacious attitude and an appetite for exploration, it fearlessly conquers all manners of gravel roads—be it the classic paths or the rugged frontiers of extensive bikepacking escapades.
Now, the third iteration of the RUUT AL not only lives up to this reputation but propels it even further. Because the new RUUT AL isn't merely a modest update; it's an entirely fresh concept meticulously crafted to embrace the diversity of the swiftly evolving gravel bike scene. The outcome? Behold the RONDO RUUT AL V3—the paramount all-rounder for every flavor of gravel venture.
A distinctive frame design packed with innovations
The amount of brain power we've invested in the new RUUT AL is already evident in its frame design: This comes from the mind of Jurek Dąbrowski. His vision: The new aluminum frame shouldn't just connect tubes sturdily, but rather transform into a cohesive, highly functional masterpiece for ultimate riding pleasure. The result is a gravel bike that stands out from the crowd with numerous special features—starting from the seamless integration of the seat tube and bottom bracket to the generous tire clearance.
And that's not the whole story! In the realm of aesthetics, the new RUUT AL raises the bar even higher. To illustrate, we've taken cable routing integration a step further, giving the bike an impeccably sleek appearance. Engaging elements like the third iteration of our TwinTip fork and the integrated toolbox guarantee unparalleled uniqueness on any terrain.
The new RONDO RUUT AL stands out with these bold features:
Bottom bracket: Our redesigned bottom bracket is a gravity cast one piece with CS yoke. This creates space for chunkier tires (622-47 and 584-50), but it's also a playground for a larger chainring. The complex design integrates neatly with a pint-sized toolbox.
Toolbox: Nestled on the underside of the frame, the toolbox contains a special mini-tool, a chain breaker and space for chain links. Downright handy: The tools can be pulled out one-handed by simply opening a rubber flap and pulling it out with one finger. The toolbox can be easily unscrewed and thus gives easy access to the bottom bracket region, making cable routing a breeze.
Integrated cable routing: Another eye-catching feature is the bike's integrated cable routing. Cables run with purpose through headset bearings and exclusive channels beneath the bottom bracket, delivering a look that's as crisp as your confidence. The cables for the mechanical dropper seatpost can be routed internally, too.
Integrated frame design: The seat tube and bottom bracket are fused together harmoniously, with the sleek flattened contours enhancing the frames compliance.
TwinTip fork: Our TwinTip system at the revamped fork lets you tweak the fork offset and head tube angle—enabling a more personalized riding stance.
Bespoke freedom unleashed: The TwinTip fork merely scratches the surface of the myriad choices awaiting you to put your personal style stamp on the bike. From single to double chain ring, fenders or no fenders—the new frame redefines customization, making bike tailoring an art form as distinct as your persona.
Three versions, five sizes, endless possibilities
Experience ultimate uniqueness for adventures on every type of terrain—RONDO unveils the new RUUT AL in a trio of versions: The RUUT AL0 GEN 3 comes with Shimano GRX 600 groupset, Microshift 11–42 cassette and 40-millimeter Vittoria tires. The RUUT AL1 GEN 3 is equipped with a SRAM Apex 1 groupset, Microshift 11–42 cassette and 40-millimeter Pirelli tires. The RUUT AL1 2x GEN 3 comes with a 2x Shimano GRX 400, Shimano 11–36 cassette and 40-millimeter Pirelli tires. The models are available in five sizes each (XS–XL).
The bikes will be available in the fall of 2023.
RRP
​AL0 - 2.799 EUR | 2.599,99 GBP ​
​AL1 - 2.399 EUR | 2.199,99 GBP
​AL1 2x - 2.399 EUR | 2.149,99 GBP
---
Photos, Videos and Specs
Please find all photos, videos, specs and the press release here for download.
© RONDO / Marek Ogien for all action pictures.
Test
Would you like to test a bike editorially? Then don't hesitate to let us know here: https://forms.gle/6pgMRQPMgeRt1nAP9 Please indicate if you have any deadlines. RONDO will contact you as soon as possible.
Note to the editors
You will receive an update on the carbon variants as soon as possible.
About RONDO
We live, breathe, and sleep two wheels. We race each season on and off the road. We ride thousands of km each year. We commute to work on bikes every day. We are not pro racers though. We admire the heritage of the great tours, but we can't figure out who rides for which team these days. We started RONDO because we wanted to create bikes for real cyclists, like us, and most probably like you. For people who have no time to waste on talking and want to get straight to the point. People who love to kick everyone's ass in the local race, beat their PR on a climb, but also do a relaxed gravel ride with their friends. We started RONDO because we wanted to create bikes that are beautiful—technically and visually. Bikes that stand out from the crowd. We started RONDO because we wanted to change the way drop bar bikes are perceived by both roadies and mountain bikers. We absolutely love to watch the faces of our road racing friends when they hit the gravel for the first time, absolutely loving it. Or see our MTB buddies gleaming with joy like kids when they get on the drops and go full gas around their local trails. With 15 years of experience in manufacturing bikes, we have put together a new team that includes the best industrial and graphic designers, engineers, riders, and experienced business managers. Here we are.
Do not hesitate to contact us if you have any questions: ​ 

​
​